High flying action planned for Tusayan Fourth of July
Drone show, parade and concert celebrate community spirit, Independence Day and 10-years of incorporation for Tusayan
Originally Published: June 29, 2021 11:46 a.m.
TUSAYAN, Ariz. — The town of Tusayan is gearing up for a unique celebration this Fourth of July.

In a salute to Independence Day, the town has hired Hire UAV Pro to light up the night sky July 4 with more than 100 drones.
In addition to the show, the town is also saluting community members for their persistence and dedication throughout the COVID-19 pandemic, as well as 10 years of incorporation as a town.
"After COVID, we wanted to celebrate our 10th anniversary (of the town) in a unique way. A 'United
We Stand, Our Grand Community' themed drone light show seemed perfect," said Vice Mayor Brady Harris.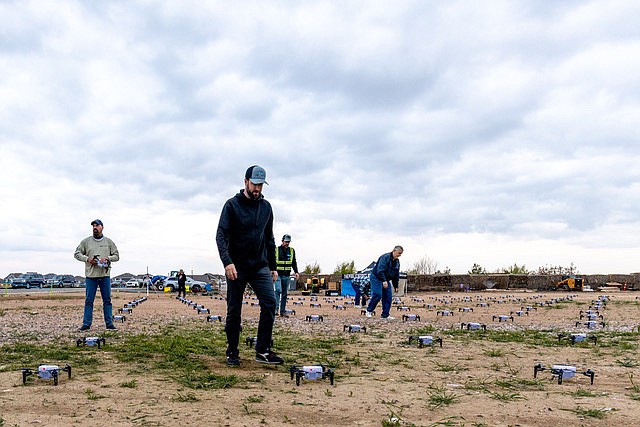 This is the first year the town has featured a drone show for the Fourth of July, which they stated was scheduled because of its unique nature and are to help reduce the risk of fire and chemical pollution in the area.
Based out of Denver, Hire UAV Pro provides state of the art drone light services across the United States and 30 countries. CEO Graham Hill said the company is excited to be at the Grand Canyon for the event.
"This is our first drone show in northern Arizona and I can't think of a better place to spend the Fourth of July… to be at one of the great monuments in our country on a national holiday will be so amazing," he said.
Stating that drones do not pose any fire danger, Hill said they are an ideal replacement for fireworks.
"All our designs are custom made and choreographed per the client's specs," he said. "Where fireworks are loud, we are more of a performance, a dance in the sky. That's how we approach these shows."
Hill is a University of Arizona Alumni and said he understands fire danger risks in northern Arizona. He said he is happy he can provide an alternative that protects the forest.
Fourth of July events
Fourth of July celebrations starts long before dark, with local bands Exit 64 and the Boulder Alley Boys preforming next to guest artist Michael Grimm from America's Got Talent July 4 at 4:30 p.m. Food, beer and a kid zone will also be available at an additional cost. The events will be held off State Route 64 at the IMAX theater in Tusayan.
Other entertainment throughout the day includes a bike decorating competition for kids starting at 2:30 p.m. at The Grand Hotel and a parade themed "Our Grand Community United we stand" at 3:30 p.m. Spectators can watch from anywhere along State Route 64.
There will be a special media preview drone show after sunset July 3.
"We are excited to see (the return) of the Fourth of July parade and events that will be happening this year," said Mayor Clarinda Vail.
The town of Tusayan was incorporated April 6, 2010. It is represented by a five member, publicly elected council, including a mayor.
More information about the Fourth of July is available from the Grand Canyon Chamber of Commerce at www.grandcanyonCVB.org/July4th.
SUBMIT FEEDBACK
Click Below to: