Bald eagle nest discovery in Williams points to recovery success
Originally Published: June 29, 2021 10:57 a.m.
WILLIAMS, Ariz. — Although a group camping under a bald eagle's nest in Williams drew concern from local residents and the Arizona Game and Fish Department (AZGFD), the outcome was positive leading to the discovery of four healthy eagles and an educational opportunity.
Two weeks ago, local AZGFD officers received a report of a large group of visitors who had set up their camp under a bald eagle nest in a rural area west of Williams. The reporting party said they were concerned because they had seen active eaglets in the nest.
"In this incident, we had a nest that we hadn't known anything about," said Kenneth Jacobson, raptor management coordinator for AZGFD. "It was one of those where we had nestlings that were almost ready to fly."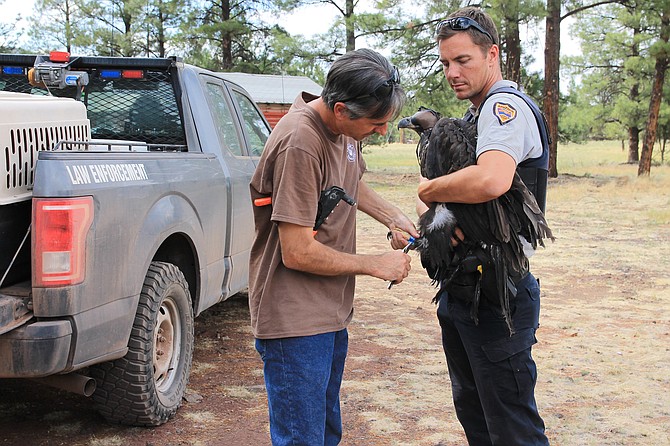 Jacobson said AZGFD raptor specialists regularly work to minimize conflict between nesting bald eagles and recreationists, as the population of the bird rebounds in Arizona.
Bald eagles were removed from the Endangered Species list in 2007, but are still protected under the Federal Bald and Golden Eagle Protection Act, which prohibits possessing or killing a bald eagle, or disturbing the feeding, sheltering, foraging behavior or nesting activity of bald eagles.
Jacobson said disturbance was the main concern with the recent nest discovery in Williams.
"They (nestlings) were older, pretty hardy and sturdy," he said. "When the campers moved in, the person who had been watching these nests noticed he wasn't seeing the adults anymore."
Early in the nesting, an adult eagle will continuously stay at the nest, but as the juvenile eagles grow, the adults may stay away from the nest for longer periods.
"With these nestlings as old as they are, the adults spend their time finding food," Jacobson said. "They just fly by, drop off a fish and fly back out again because the nestlings are old enough to feed themselves."
AZGFD officials were concerned because little information was known about the breeding pair. Jacobson said the adults could be exhibiting normal behavior, or they may have abandoned the nest.
"We didn't have any observation of the adults vocalizing, flying around or having a hard time, but we also weren't seeing the adults around," he said.
When disturbed, bald eagles will give obvious notification that they aren't tolerant, which includes the birds coming off the nest, flying in circles and continuously squawking, Jacobson said.
Fortunately, local residents observed the adults return to the nest later that week.
"The campers were happy to work with us and moved their camp," Jacobson said. "This is one where we were able to work with the people, and now we can observe those adults and identify the distances and tolerances."
AZGFD officials were also able to educate the campers about bald eagle behavior.
"We have a population in Arizona that is growing immensely, which has been wonderful to see and document," he said. "But part of that is ending up with some breeding areas that are highly accessible and in heavily used areas."
In Arizona, the number or breeding pairs has increased steadily — but their success is dependent on healthy eaglets. Jacobson said there are four breeding pairs in Williams, and state-wide there are 96.
"The bald eagle here in Arizona is doing very well," Jacobson said. "We are still a relatively small population, but we've got the most bald eagles breeding in Arizona that has ever been documented."
As little as 15 years ago, there were no eagles nesting in the higher country or at the higher elevation lakes, but Jacobson said nearly one-third of the Arizona eagle population is now nesting in the higher elevations.
"We are seeing a lot of growth in the high country," he said.
Game officials and volunteers regularly monitor the known bald eagle nesting sites and have found that the birds have varying degrees of tolerance.
"We adjust our management accordingly," Jacobson said. "We'll have closures in place, when we have to, for birds that are not so tolerant of human activity. But we have had places such as active golf courses, where birds have come in and built nests right over tee boxes and the eagles were very used to activity."
History
The recovery of the bald eagle has become a success story. Forty years ago, the bald eagle was in danger of extinction throughout the United States. The use of the pesticide DDT, habitat destruction, illegal shooting and food source contamination decimated the eagle population.
With protection under the Endangered Species Act in 1973, the federal government's banning of DDT, and public conservation actions, the bald eagle is making a recovery.
The positive growth nationwide prompted the U.S. Fish and Wildlife Service to remove the bald eagle from the Endangered Species Act in 2007. However, continued threats to the population in the Southwest require continued protective, coordinated management actions by the Southwestern Bald Eagle Management Committee, implemented through the Arizona Game and Fish Department.
Contact
AZGFD encourages people to report bald eagle nests at baldeagle@azgfd.gov, especially if it is believed to be a new or undocumented nest. Anyone who observes a disturbance or illegal activity should call Operation Game Thief at (800) 352-0700.
SUBMIT FEEDBACK
Click Below to:
More like this story