Pulling out of the station: Max and Thelma Biegert are remembered for reviving Grand Canyon Railway
Originally Published: June 15, 2021 10:29 a.m.
WILLIAMS, Ariz. — For those who live in Williams, the Grand Canyon Railway whistle every morning has become a part of life, with many not even remembering a time when it wasn't blowing.
"It was a deep personal concern of ours that in this technological society of ours, we are forgetting our heritage. This historic renovation of the railroad will help us to remember and relive some of that heritage."
~ Max Biegert in 1989
However, for those who have lived through the boom and bust days in Williams history, the train whistle is a reminder of the contributions of two visionaries — Max and Thelma Biegert — and their dream of bringing railroad history back to life in Williams.
The Biegerts were in their 90s and passed away within days of each other at their home in Paradise Valley, Arizona last month.
Although Grand Canyon Railway is now owned by Xanterra Parks & Resorts, the Biegerts are still spoken of fondly in Williams and their legacy remains.
"They were just good people," said Williams Mayor John Moore. "Max and Thelma were the nicest couple I ever met in my life — totally honest, impeccable integrity."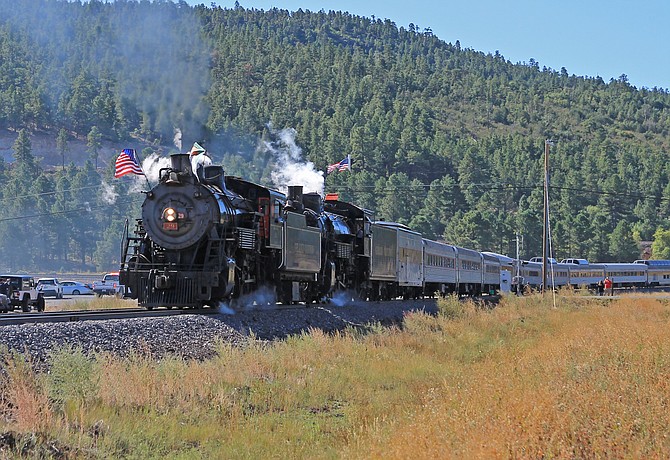 The Biegerts initially invested $15 million to revitalize the train to the Grand Canyon. In 1988, Max and Thelma, and several officers and consultants took to planning and in January 1989, the group announced the Grand Canyon Railway would run its first train from Williams to the Grand Canyon on Sept. 17 to commemorate the 88th anniversary of the 1901 first passenger train.
"In September 1987, Max Biegert came to town for a meeting at City Hall to discuss the possibility of reviving the defunct Grand Canyon Railway.," said Historian Al Richmond. "When he left we had a railroad and Max and Thelma brought their family business ethic to Williams."
Since the tracks and bridges had not seen maintenance since 1974, considerable work was needed to restore the line. Not only did crews need to upgrade the railroad bed, but thieves had stolen nearly one mile of railroad ties that needed replacing. This added up to about 30,000 ties. The entire line needed reballasting, several roadbed washouts needed refilling and trees needed to be removed.
"Max liked challenges and he was a daredevil," Moore said. "But they did everything together, you saw one, you saw both."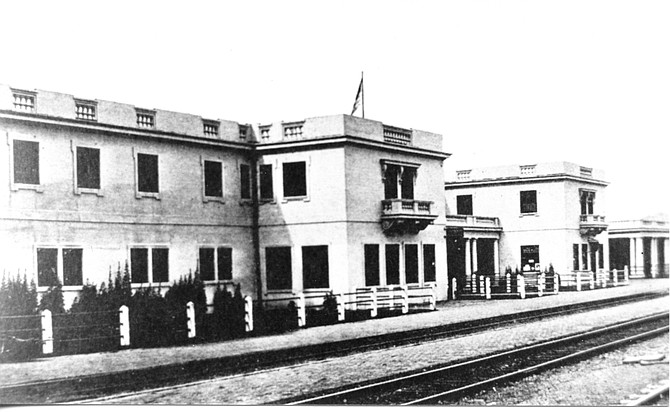 The Fray Marcos Hotel had been heavily vandalized over the years and sustained significant roof damage. Bricks and boards had covered the windows but vandals had managed to force their way in and spray painted the interior, broke windows and doors, and ripped out plumbing fixtures. The flat roof created a pool for water which damaged railroad artifacts and infrastructure.
While this work was being done, the company began searching for the locomotives and personnel to run the train. Through the consulting of experienced engineer Will Ambrose, enginemen were acquired from across the country.
"Had he not done that and the railway was not developed as he did it, I believe Williams would still be struggling to get its feet on the ground," Moore said. "Without the railway we wouldn't have much to build on."
Along with the rebuilding, marketing and sales services were organized. The reintroduction of the railway garnered a lot of media attention.
As the crews pushed for the September reopening, enthusiasm grew with several thousand people appearing for the inaugural run.
The reopening events included a keynote address by Arizona Governor Rose Moffett, music by the Northern Arizona University band, a dedication of the railway museum, a panel discussion, giveaways and a gold spike ceremony at the South Rim of the Grand Canyon
"It was wonderful to see Williams come to life again and that beginning Max and Thelma gave us back in 1989 continues to this day," Richmond said.
The years following the reopening were the start of a slow resurrection of the town of Williams. Some thought the I-40 bypass in 1984 was the death of Williams.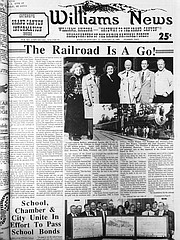 The railroad did make an impact, but it wasn't immediate.
"The first year was a trial period to see how the railway could work with the town and vise-versa," Richmond said previously. "Businesses slowly came alive again, but it took quite a while and the town is still growing."
Early history
Max and Thelma grew up during the difficult years of the Great Depression. Max was born in Shickley, Nebraska, the youngest of four boys. He had developed the passion for being an entrepreneur at an early age, when he sold produce at the local airfield.
He attended a one-room schoolhouse and was the first in his family to graduate from high school. Following high school, he joined the Navy at the end of World War II. Using his GI Bill, he learned to fly, which led him to a career as a crop duster and later founded Biegert Aviation, providing converted B-17 bomber planes for firefighting and aviation services to farmers and government agencies.
Thelma had grown up in a hardscrabble area of Louisiana, one of 10 children, and lost her mother at a young age. She met Max in Nebraska at a local dance in 1950. She went on to become a pilot and accompanied Max on their many adventures.
In 1970, the couple founded National Childcare, a chain of daycare centers in Houston, Texas. Within five years, the business grew and eventually expanded to 60 centers in five states. They sold the business in 1975.
After travelling the world and eventually landing in Arizona, Max and Thelma took on the restoration of the Grand Canyon Railway in the late 1980s.
"He was a good businessman," Moore said. "I think they enjoyed their time a lot, I think they really enjoyed seeing it (restored)."
The couple was known for being personable and outgoing, but their investment in the railway wasn't always easy.
"He had to make some hard decisions in the startup of the railway," Moore said. "I remember one time 100 or so got laid off in one day."
But Moore said Max's work ethic and compassion helped the Railway thrive.
"Max never forgot where he came from, he had Bentleys and high dollar fancy cars and Thelma always had a Mercedes," he said. "But he could easily talk to the homeless guy or he could talk to the president, he was just one of those guys."
Moore said Thelma was also good natured and had a great sense of humor.
"She was a people person, people loved her," Moore said. "She was a great practical joker, she loved to play jokes on people."
Richmond said Max and Thelma lent their style and personality to the daily operations of the Grand Canyon Railway.
"Over these years they continued to make improvements to the project with a new hotel, restaurant, new historic locomotives and cars, upgrades in service and contributions to the community," he said. "Sadly, we lost them both to the ages last month but their legacy lives on as Max and Thelma's Grand Canyon Railway continues to be the town's centerpiece. They will be missed."
SUBMIT FEEDBACK
Click Below to:
More like this story