The increasing popularity of e-bikes at Grand Canyon
With two locations offering rentals to visitors, e-bikes are becoming a common sight in and around Grand Canyon
By Lo Frisby, Williams-Grand Canyon News
Originally Published: June 1, 2021 9:27 a.m.
GRAND CANYON, Ariz. — Since 2020, electric bicycles, better known as e-bikes, have been growing in popularity as a means to get around at Grand Canyon National Park.
E-bikes are defined as a bicycle with an integrated electric motor used to assist propulsion.
Last December, as bikes became increasingly popular among visitors, the National Park Service (NPS) finalized regulations governing the use of e-bikes in national parks.
NPS attributes the bikes' popularity to several factors, including ease of use, a wider range of travel and expanded options for visitors who have physical limitations who may otherwise prefer to ride a traditional bicycle.
Another factor driving e-bike use has been the coronavirus pandemic.
According to a recent report by Cycling Industry News, e-bike sales in the U.S. grew by 145 percent from 2019 to 2020, as social distancing regulations caused many to turn to greener modes of transportation.
While e-bikes are becoming more common, there are rules to determine and regulate where and how they can be used.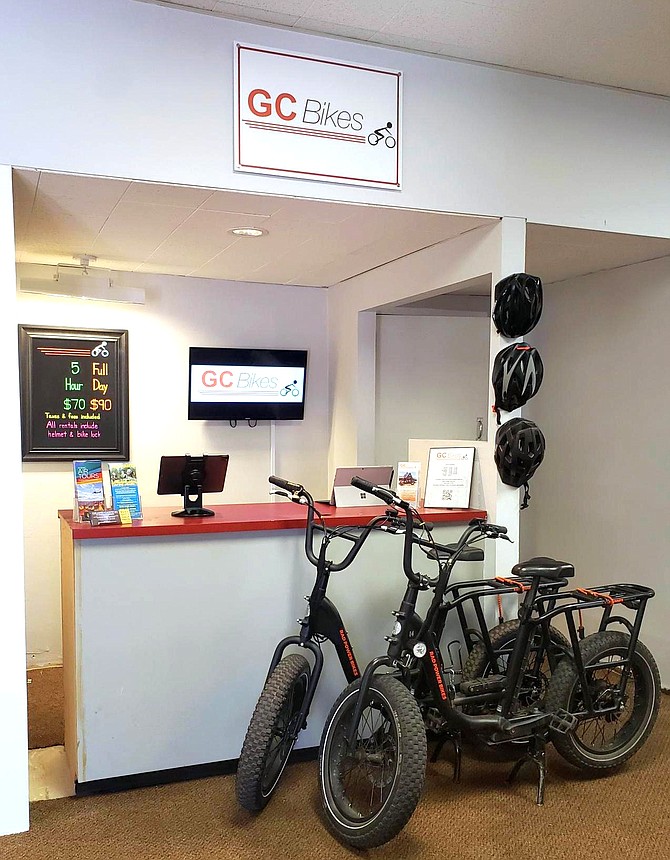 According to state laws, e-bikes can be grouped into three categories: class 1, 2 or 3.
Depending on class, some e-bikes may be allowed on traditional bike paths. However, rules vary from state to state.
Currently, only class 1 and class 3 e-bikes are allowed in the National Parks, according to Louis Rowe, Deputy Superintendent of Grand Canyon NPS.
Class 1 e-bikes are pedal-assist, meaning that the electric motor kicks in when the rider is pedaling, and have a 20 mph top speed.
Class 3 e-bikes are typically faster than class 1, with a top speed of 28 mph, but can be modified by adding a restrictive mode that limits the speed to 20 mph.
Class 3 e-bikes are also pedal-assist, but some have a throttle. However, some states such as California do not allow class-3 e-bikes to have a throttle, where other states allow throttles as long as the e-bikes are limited to 20 mph.
Rowe stated that since class 2 e-bikes (all) have a throttle, they are currently not allowed in the National Parks System.
Rowe explained that currently, the Department of the Interior (DOI) policymakers are awaiting states to determine the nature of class 2 e-bikes before they decide whether the e-bikes will be allowed in the National Parks.
"We haven't figured out if they are an electric motorcycle or a bicycle" he said.
In Grand Canyon, visitors may ride approved classes of e-bikes on sections of the 13-mile Greenway Trail system to visit popular areas such as Pipe Creek Vista and Hermit Road, and can cover more ground in a shorter amount of time than by walking or hiking.
In general, Grand Canyon regulations state that approved e-bikes are allowed on traditional bicycles routes, with some limitations where motor use is prohibited.
"We are going to regulate class 1 and class 3 e-bikes here in the park," Rowe said.
Rowe explained that in Grand Canyon, only class 1 rentals have been approved, however, park officials will not approach cyclists who bring in their own e-bikes to check whether their bike is approved.
However, NPS does have the authority to regulate the behavior of cyclists using e-bikes if they are not in compliance with park rules.
More information about e-bike use in Grand Canyon is available at https://www.nps.gov/grca/planyourvisit/bicycling.htm
E-bike rentals in Tusayan
In June of 2020, the first location to offer e-bike rentals, Grand Canyon Bikes, opened its doors in the gateway town of Tusayan, located two miles from Grand Canyon's south entrance.
Grand Canyon Bikes is located inside of the Grand Canyon Airport Main Terminal, located at 3551 Airport Road in Tusayan.
Owned and operated by Tusayan Vice Mayor, Brady Harris, Grand Canyon Bikes offers visitors the opportunity to ride into Grand Canyon via the Tusayan section of the Greenway Trail, which is a paved trail approximately 6.5 miles through the Kaibab National Forest.
According to Grand Canyon Bikes, it takes 30 minutes to reach Grand Canyon Village from Tusayan via e-bike.
Harris said riders headed to Grand Canyon from Tusayan must obtain a park pass before entering the park, and passes are sold next door to Grand Canyon Bikes at the Westwind Air Service kiosk.
Passes can also be obtained at the IMAX Theater in Tusayan.
Grand Canyon Bikes rents class 3 Rad Power brand e-bikes that have been modified to class 1.
"We changed them because we want to be good neighbors," Harris said.
Harris explained that throttles on his e-bikes have been disengaged, and they have a top speed of 20 mph to conform with NPS regulations.
Harris said his company's mission is to provide accessible options which expand visitors' experiences.
The company provides riders with a basic map of Grand Canyon, with notable points of interest that are described to riders before they depart.
The company is also working toward greener power solutions, and plans to use solar power to charge e-bikes in the future.
More information about Grand Canyon Bikes is available at https://gc-bikes.com
E-bike rentals in Grand Canyon
In Grand Canyon, Bright Angel Bicycles and Mather Point Café recently added a fleet of "European style" class 1 e-bikes to its collection of traditional bicycles.
"It's a big moment for us and we're pretty excited to get this technology rolling inside of the national park," said Wes Neal, owner of Bright Angel Bicycles.
Bright Angel Bicycles is located at 10 South Entrance Road in Grand Canyon, just minutes from Mather Point, one of the most popular points along Grand Canyon's South Rim Trail.
Bright Angel Bicycles offers riders three distinct ride options: a red, yellow, or orange bike ride.
The color-coded rides are detailed map routes that offer time and sight-specific options for riders, and include elevation details and shuttle access options.
Neal described the availability of e-bikes in Grand Canyon as part of a larger movement toward e-vehicles in general, and described how large corporations like Ford Motor Company are trending toward electric technology.
More information about Bright Angel Bicycles is available at https://bikegrandcanyon.com
SUBMIT FEEDBACK
Click Below to: