A roller coaster of a ride: Community sounds off on proposed coaster park and tubing hill
Originally Published: January 19, 2021 10:18 a.m.
WILLIAMS, Ariz. — Opponents and supporters of a proposed adventure park at 700 E. Route 66 in Williams gathered to voice their concerns at the Jan. 14 Williams City Council meeting.
Several residents from Pine Street, which neighbors the proposed park, gathered outside City Hall before the meeting to protest the development.
Steve and Chris Sanders, residents of Pine Street for more than 26 years, said they are opposed to the park's location, not the park itself.
"Let's build a theme park so (kids) can go to it, let's just not put it in a community area. Let's find another spot," Sanders said.
If approved, the location will house a family adventure park with the primary attractions of a coaster track, and a summer and winter tubing hill operation. Other additions include a miniature golf course, ropes course and lodge.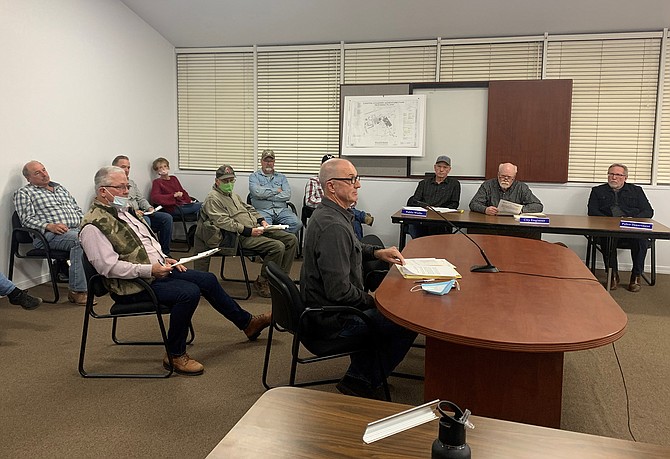 According to Scott Towsley and Bruce Voigt, partners in the Canyon Coaster Adventure Park, the distance between the park and the closest residential property is approximately 900 feet.
"From the center of our building, which is kind of the main hub of the park, to the nearest home on Pine Street is about 900 to 1,000 feet," Towsley said.
City staff, including Williams Water and Wastewater Operator Pat Carpenter, Public Works Supervisor Aaron Anderson, Williams Community Development Director Tim Pettit and Williams Police Chief Herman Nixon attended the meeting to provide input and answer questions from the public.
Other concerns from the community centered around noise, water usage and traffic, which some said would impact the quality of life for residents living on Pine Street.
"I am opposed to putting this park in my front yard," Chris Sanders said. "If you think we have the water, fine, what I am opposed to is the noise, the traffic that we don't know about… what I would like to see our city council do is put a stay on this thing (and) include the citizens of this town, because nobody knows about this. It is just now getting out."

Those in support of the park included Scott Burrell, manager of the Red Roof Inn, Super 8 and Rodeway Inn in Williams. Burrell said he supported the proposal because it supports tourism and because of its potential to bring revenue and jobs to the area.
"We are extremely excited for this opportunity," he said. "I think it's a great opportunity for the town — anything that's going to bring in more revenue especially after the year we just had."
Williams business owner Greg Cole said he supported the development because it would offer the youth of Williams something to do and would provide jobs.
"I understand there is going to be noise, there is no stopping that, but I am for this," Cole said. "I have four kids and I just see this town and there is nothing for the kids to do in town —we have a Rec Center that doesn't get used much… I just feel like this is going to give (youth) opportunity. And there's the job opportunities that this is going to bring for this generation of 16 and 17 year olds."
John Zanotti, a resident of Pine Street, said he opposed the park because of water usage and noise, among other issues.

"It's not going to affect just Pine Street, but it's going to effect the town all the way west," he said.
Williams resident and business owner Kerry Lynn Moede said she wanted to approach the topic with an open mind and asked whether or not the developers should have to pay impact fees to those affected by the development.
"A developer who comes in from out of town and brings lots of money and wants to make lots of money on our town, I think should pay impact fees and should have to help our infrastructure and our town and our way of life improve," she said.
In response, Towsley and Voigt said their goal is to be a good neighbor and to become a part of the Williams community.
They said they chose Williams because it is a destination town. They said they did not want to take anything away from the community but add to it.
"Bruce and I looked at a lot of different locations… we really chose Williams as our first choice because of the tourist driven aspect of the town," Towsley said. "We thought we could add to that. Add some jobs, add some revenue, add more things to do — just like Bearizona did. We certainly didn't come to destroy the fabric of the town. We came here because of the fabric of the town."
Water, traffic and noise
In response to questions about water usage, Carpenter said the proposal requested to use three million gallons of raw water. He said the city would be able to provide that amount.
"The city has been on track to address water issues," Carpenter said. "The three million gallons of water a year, which was what I understood the developer was asking for, is not a very large number in my opinion. If they use raw water, we have the raw water for that."
According to Pettit, the amount of water requested is equivalent to the same amount of water a typical hotel uses within the city.
In response to traffic concerns, the city has asked the developers to refine their parking plan.
Additionally, Nixon said he did not see concerns with traffic flow, since traffic could be filtered into town from both the east and west sides of town.
"There's plenty of room there," he said. "It's a wide enough roadway that they can move the traffic over from where it goes now. As far as I'm concerned, with that turn lane and left turn lane, the turnabout and the traffic to the right, I don't see much congestion in that area."

In response to noise, Towsley and Voigt said snowmaking machines would typically run at night. They said the exact timing of when the machines would be operated would depend on the weather.
"It depends upon temperature," Towsley said. "I cannot tell you we are going to start making snow at 9 o'clock. If the temperature is cold enough we may start at 5 p.m. and run through the night."
Next steps
The meeting was the first reading of the proposal for the park and provided the opportunity for public input.
The ordinance must be read three times before it can be approved.
After the public commented, council member Lee Payne questioned the developers further, asking about noise, traffic, parking and whether or not the park would need to have a fence installed for trespassing violations.
Towsley said they would take precautions if it was necessary.

"If you think we need one, if it's a problem," Towsley said.

According to Towsley, the average wage for employees at the park would be around $15.
Voigt said the company also has a profit sharing plan and a bonus for those working during the holidays.
"In Big Bear, I've probably employed in the last 20 years maybe 3,000 high school kids," he said. "When we do stuff, we're not just here to fill up a bank bag and run out of town. I can't emphasize that enough."

The proposal went before the Williams Planning and Zoning Commission for rezoning. It was approved in a 5-0 vote Dec. 17.
In order to have the public's questions answered, Mayor John Moore said he thought it best to observe other parks owned by the developers first hand and requested Payne and McNelly visit the parks in Big Bear, California.
If approved, construction would begin this spring with a goal to open in the fall or winter 2021.
The council will hear a report from council members and consider the proposal again at its Jan. 28 meeting.
SUBMIT FEEDBACK
Click Below to:
More like this story