1982 Williams homicide victim "Valentine Sally" identified
Originally Published: February 23, 2021 10:15 a.m.
WILLIAMS, Ariz. — Coconino County Sheriff's Office (CCSO) announced Feb. 22 that after nearly 40 years they have identified the probable homicide victim dubbed "Valentine Sally."
The Jane Doe was one of the oldest unsolved cases in Arizona, and perplexed the Williams community for years.
CCSO announced that through DNA searches the victim has been identified as Carolyn Eaton of St. Louis, Missouri. Easton would have been 17 years old at the time of the crime.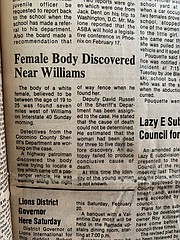 On Feb. 14, 1982, an Arizona Department of Public Safety officer searching for a tire along I-40, seven miles west of Williams, came across the remains of a young woman lying face down under a cedar tree along a right-of-way fence. The woman was barefoot, wearing a white sweater with maroon stripes and "Seasons" brand designer jeans.
The autopsy determined the woman was from 16 - 23 years old, 5-feet, 4-inches tall, 120-130 pounds, had shoulder length blond hair, pierced ears and had recently undergone a partial root canal. The body was in a state of decomposition and animals had made further identification impossible.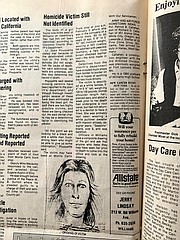 Detective Sgt. Jack Judd, now retired from Coconino County Sheriff's Office, led the investigation to identify the body and determine the cause of death. He continued to work the case throughout his career, following up on numerous leads.
Investigators believed Eaton was either suffocated or strangled, but the investigation into the cause of death continues.
According to the Feb. 18 edition of the Williams News, investigators determined the woman had been dead for three to five days before discovery. An autopsy failed to produce a conclusive cause of death.
CCSO Lt. Dave Pouquette, since retired, told the News that the victim may have been at the Monte Carlo Truck Stop in Ash Fork around 3 a.m. Feb. 5 in the company of a white male, 60-65 years old, five-foot-eight-inches to five-foot-ten-inches tall, medium weight, wearing a felt cowboy hat adorned with peacock feathers and a two tone brown checked leather vest.
Patty Wilkins, a waitress and part-owner of the Monte Carlo Truck Stop remembered seeing a young woman matching the description around that time.
"She was a blonde, a pretty girl. I assumed she was about 16 or 17 years old," she said at the time. "We've been in this little truck stop for 17 years and as a rule when a girl comes in off a truck and looks too young, we pull her off, the sheriff's office comes along and they send her home."
But Wilkins believed the teen was with a relative, as the man was concerned about her teeth, and did not report the encounter.
The Williams News stated that detectives from CCSO scouted truck stops all across I-40 in hopes of spotting the truck.
Wilkins paid $168 to bury Eaton in the Williams Cemetery.
Investigators with CCSO worked with the National Center for Missing and Exploited Children (NCMEC), National Missing and Unidentified Person System (NamUs) and the Arizona Department of Public Safety to identify "Valentine Sally" through familial DNA.
The process utilized a private company that specializes in DNA processing for submission into online databases for genetic comparison. Information obtained from the database search identified a relative of "Valentine Sally". Through the process, detectives were able to locate potential family members of Eaton, obtain DNA samples from them, and confirm the identity of the body.
Identification of unidentified victims is a difficult and lengthy process and can be costly to agencies looking to identify victims of crimes, the Sheriff's Office said.
"Recent breakthroughs in DNA technology have allowed Law Enforcement Agencies to identify victims as well as suspects in cold cases such as these," they said.
The CCSO said grant funding through NCMEC and the Sheriff's Office allowed the investigation to continue.
Detectives traveled to St. Louis to interview family members and were able to retrieve DNA samples from potential relatives. They were assisted by the St. Louis County Police and the Bellefontaine Neighbors Police Department in Missouri.
"It was found that the family members had a sibling who ran away from home around Christmas time in 1981," the Sheriff's Office said.
The DNA samples matched the DNA profile of "Valentine Sally," which led investigators to identify the person as Carolyn Eaton.
The CCSO continues to work leads to identify possible suspects in the case.
"At this time, there are no suspects identified but the case remains under investigation as a homicide," the Sheriff's Office said.
SUBMIT FEEDBACK
Click Below to:
More like this story