Bearizona expands temporary grizzly bear habitat, unveils documentary on orphaned cubs
Originally Published: February 9, 2021 5:02 p.m.
WILLIAMS, Ariz. — Now that Bearizona is the home for three rescued grizzly bear cubs, the park is sparing no expense in creating a state-of-the-art habitat called Grizzly Encounter, set to open in 2022.
In the meantime, the park has recently updated its adolescent black bear enclosure to temporarily accommodate the growing grizzly cubs, and has released a new documentary covering the rescue of the orphaned cubs.
"We're extremely proud to be offering these amazing and not-so-little grizzly cubs an equally amazing, and more spacious new home as they grow, while we continue to build the best grizzly bear enclosure in the country," said Bearizona Animal Director Dave O'Connell. "These cubs are important animal ambassadors because they will educate guests from all over the world about grizzly bears and the habitats in which they live."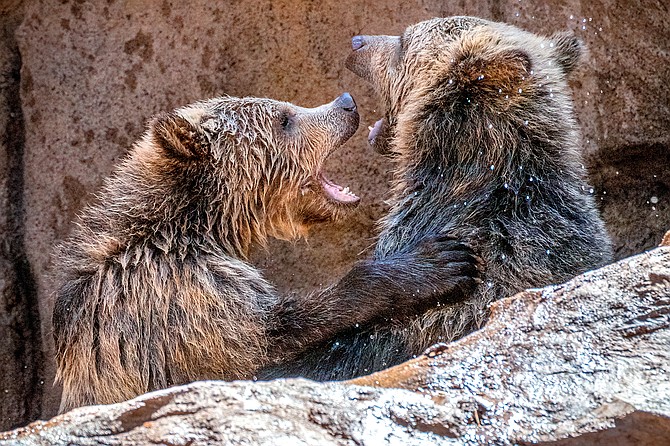 Once complete, the nearly 40,000-foot Grizzly Encounter exhibit will cover expansive ponderosa pine covered grounds with multilevel spaces that will include a 200-foot by 24-foot cliff, two waterfalls, underwater viewing areas and a rock ridge where people can look down on to the habitat or view the bears at their pond. Visitors will be able to safely view the bears with the construction of moats, railings, and glass paneling.
The nearly $1 million addition is expected to be one the of the largest and most complex grizzly bear habitats in the country.
Paying homage to their Montana roots, two of the cubs, Sky and Crockett, are named after Big Sky, Montana and the Montana-based wildlife conservation organization, Boone & Crockett Ranch. The third cub, Hanna, is named after Jack Hanna, the nationally renowned zookeeper who played a role in the bears' rescue and rehoming to Bearizona.
Since their arrival to Bearizona in early 2020, the young cubs have remained in good health and have easily settled into their new home.
The cubs arrived weighing 25-35 pounds and currently tip the scales at 210 pounds because of a diet rich in salmon, trout, beef, fruits and vegetables, according to Kyle Alexander, head keeper at Bearizona.
"They grow about five pounds per week," he said.
The cubs' temporary exhibit required some modifications from its previous existence as a black bear home. Alexander said the grizzly cubs have different habits and characteristics than their black bear counterparts.
"We made the trees more grizzly bear style so they wouldn't have to climb all the way up them to explore," he said.
The staff also found the cubs liked to dig so the habitat was filled with dirt mounds instead of grass.
"In our other enclosure we found they were just tearing up the grass," Alexander said. "So we wanted to add many dirt piles and create fun in here for them."
Grizzly cubs also require more protein in their diet than black bear cubs.
"Black bears only need 10-20 percent protein," he said. "They are scavengers out in the wild, they search for their food."
Grizzly bear claws are longer and are designed for catching their food and digging, Alexander said.
While Sky, Crocket and Hanna can often be seen playing in the ponds, running laps or digging for bugs, the staff carefully watches them for signs of stress.
"We try to keep them stimulated, but also comfortable," Alexander said. "Whatever that animal is doing in the wild we try to replicate in some way. We don't want them to be bored, but also be relaxed. If they are always up doing something that can be stressful."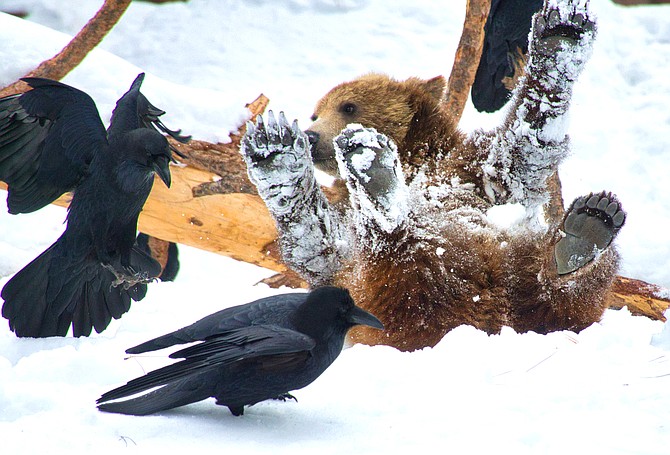 The new Grizzly Encounter is designed by Jonathan LaBenne, the artist who has made Bearizona the unique wildlife park that it is. He and his family have been working at Bearizona since the parks' inception in 2009. Over the years they travel back and forth from their home in Afton, Wyoming as new projects arise at Bearizona.
The LaBenne family uses a variety of materials in their artwork. At Bearizona, many of the rock sculptures and arches overlay old cars and trucks,
Sheet metal is placed and the metal is shaped to resemble rocks with ledges. They then used foam, plaster, concrete and other mediums to sculpt the rock walls and ruins.
Although the Grizzly Encounter exhibit is slated for opening in spring 2022, Alexander said the date is flexible.
"We don't really want to put a timeframe on it because we want to do it right," he said. "We are going to take our time and make it one of the best out there."
The cubs' story
Hanna, Crockett and Sky's mother was euthanized on April 9, 2020 by Montana Fish, Wildlife and Parks staff, a day after she bit a hiker in the leg during a surprise encounter just south of the Blackfeet Indian Reservation. The hiker shot and injured the bear during the encounter. At the time, it wasn't clear how many cubs she had.
The next day, a ranching family in the Dupuyer area spotted three cubs in a field. They called wildlife officials and then gathered the cubs and placed them in a plastic barrel out of concern they might be injured by a male grizzly bear living in the area and because a snow storm was threatening.
The cubs were initially placed at the Wildlife Center at Montana WILD in Helena for six weeks while state and wildlife officials looked for a zoo that met animal care and safety standards.
Bearizona CEO Sean Casey had long sought to acquire grizzly bear at the park and when he heard about the cubs, he inquired about making the park the cubs' new home.
With the help of Arizona Game and Fish, Arizona State Veterinarian, Jack Hanna, the US Fish and Wildlife Service and Montana Fish and Wildlife, Casey was able to bring the cubs to back to Bearizona.
Anyone can see the playful bears throughout the day on Bearizona's webcams. A Journey to a New Home: A Grizzly Bear Documentary can be viewed at https://bearizona.com/media/grizzly-cub-documentary.
Bearizona is located at the intersection of I-40 and U.S. Hwy 64 (Historic Route 66) in Williams. More information can be found by calling (928) 635-2289 or visiting Bearizona.com.
SUBMIT FEEDBACK
Click Below to:
More like this story