A classic twist: Williams' favorite Thai restaurant finds a new location
Originally Published: August 31, 2021 9:21 a.m.
WILLIAMS, Ariz. — One of Williams' favorite Thai restaurants has branched out after purchasing Twisters Soda Fountain on Historic Route 66.
In July, Dara Thai owners Dada and Roberto Ramos and Moises and Nanny Rojas decided to move from their location on Second Street after purchasing Twisters on Route 66.
Because of Twisters' history in Williams, the couples decided to keep both names and to serve Thai food as well as traditional favorites like ice cream, burgers, sandwiches and wings.
"It has been Twisters for a long time," Nanny said. "Everybody knows Twisters in this town and now we are going to offer both foods."
Dada and Nanny are originally from Thailand and said they are happy to offer dishes from their native country. Nanny is the head chef, while Dada serves.
"I cook all of the Thai food and he (Roberto) cooks burgers," Nanny said.
The two women met their husbands while working at the Grand Canyon in 2007. Together they moved to Williams and opened Dara Thai in 2016.
"We did pretty good, but it was hard for the tourists to find us — they thought we were on Route 66," Dada said. "Now, we are much easier to find."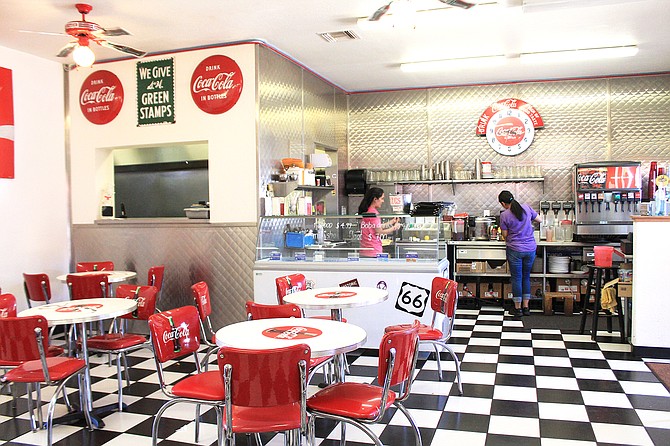 During the pandemic, Dara Thai closed its doors, serving only take-out.
"We were closed for almost two years," Dada said.

While closed, the couples decided to look for a larger, more visible location.
"We wanted a bigger place and to own the building — the rent went up every year," Nanny said. "We started looking in April and Twisters popped up."
The couples closed on the deal in July and moved Aug. 5.
Twisters was previously owned and operated by Jason Moore. In April, Moore took a position with the city of Williams as fire inspector.
Since the Ramos and Rojas families decided to keep both names and to serve both types of fares, little renovation was needed and only slight changes to the menu.
"We wanted to keep it this way, we love it," Nanny said. "It is very classic. We just put up a little Thai decorations so people know it's Thai too… now we serve Thai food and also burgers and ice cream and Boba."

Both couples work at the restaurant, dividing responsibilities to ensure quality customer service and food.
"Our burgers are made fresh," Roberto said. "We also have a special sauce that we use on the wings now."
They restaurant also offer a larger selection of appetizers as well as children's menu.

Dara Thai Twisters is located at 417 E. Route 66 in Williams. It is open from 11 a.m.-8:45 p.m. and is closed on Sundays. The restaurant's bar is open Friday and Saturday nights.
Take-out is available by calling (928) 635-0266.
SUBMIT FEEDBACK
Click Below to: