Williams' Labor Day celebration to feature fireworks and brew festival
Originally Published: August 3, 2021 10:35 a.m.
WILLIAMS, Ariz. — A firework show will light up the sky Sept. 5 during a two day Labor Day celebration at the Williams Rodeo Grounds.
The city of Williams and Williams Volunteer Fire Department (WFD) have partnered for the Labor Day Celebration Sept. 4-5, which will include food trucks, a brew festival, bounce houses, a variety of vendors and a firework show.
"We're hoping that this venue will stick and be more of an annual event," said Justin Sandoval, head pyrotechnics technician and a firefighter with WFD. "If we can keep this going every year, people will start to hear about it and will come here and bring their services and vendors and we can try to make it grow."
The idea for the event was brought before the city council by WFD after the Fourth of July firework show was cancelled because of wildland fire concerns. The city had already purchased $35,000 in firework shells and WFD was interested in creating an event that would include a firework show as well as create an annual event for the public to enjoy.
The event takes place on Saturday and Sunday and vendors can show up on Friday to set up at the Rodeo Grounds.
"We're hoping to get food trucks, vendors of all types – whatever people like to sell. We've had people say they're going to set up a booth just for advertising," Sandoval said. "We want anybody and everybody to show up."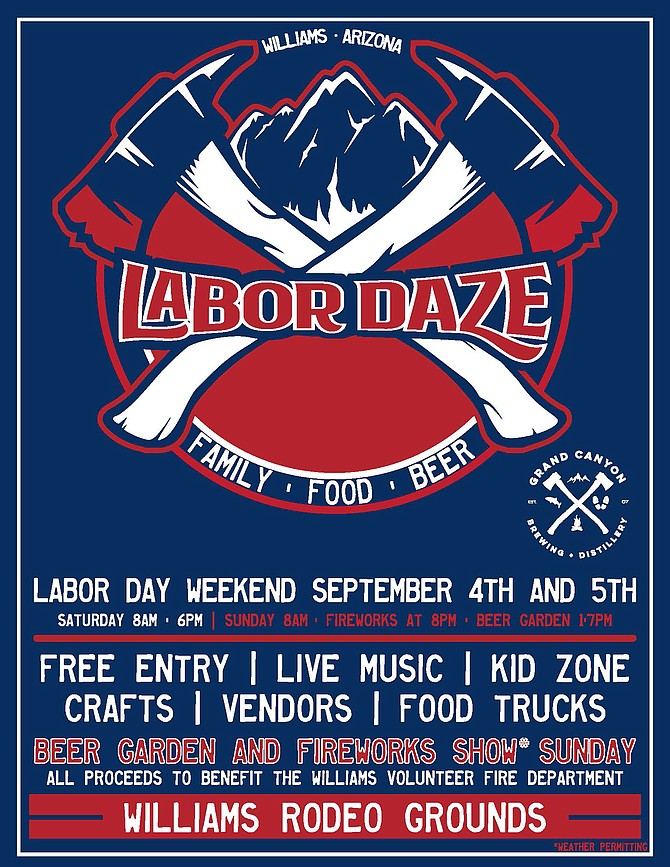 Sandoval said there is room for nearly 100 vendors and up to 12 food trucks at this time and more space can be allotted depending on how many vendors apply.
A brew festival put on by Grand Canyon Brewery will feature 6-10 breweries, with awards presented Sept. 5.
The event is family friendly – Williams Fire is renting up to six bounce houses for children and will have a booth set up for the public to visit. The event is free of charge.
Vendors, food trucks and bounce houses will be available from 8 a.m.-6 p.m. Saturday and 8 a.m. – 9 p.m. on Sunday. The brew festival will be Sunday only from 1-7 p.m.
The firework show will start at 8 p.m. Sept. 5.
Parking for viewing the firework show will be available at the Rodeo Grounds.

All proceeds from the event will go to Williams Volunteer Fire Department.
Applications are now available for vendors interested in renting a space. A 10x10 space cost $10, 20x20 space is $25 and a 20x30 food truck space is $50. There is a $10 city license fee as well, which goes to the city of Williams.
The deadline for vendor applications is Aug. 31. Vendors will need to be self-sufficient, providing their own table and chairs. There is no electricity, however, vendors and food trucks can bring their own generators.

For more information or to submit a vendor application contact Sylvia Lopez at the Williams Recreation Center at (928) 635-1496.
Firework show Sept. 5
The culmination of the event will be a firework show put on by Williams Fire Sept. 5.
Sandoval said the firework display is the same show the public would have seen on the Fourth of July. The only difference is where the show will be fired – it will be much closer than the normal show on July 4.
The show will be fired from the Sweetwater property owned by the city of Williams and located on the west side of Airport Road, just north of Interstate 40.
Sandoval said this site was selected for several reasons, including its size and distance from structures. He said firing the show from Sweetwater allows WFD the opportunity to determine if this will be a good site to shoot from in the future. The show is typically fired from Gonzalez Lake west of Love's Travel Stop, however, that property is currently pending in escrow.
"We want to do this show now while everything is saturated and wet so we can work out all the bugs and figure out everything for Fourth of July next year which is typically in the middle of fire restrictions," Sandoval said. "We can basically shoot all the shell sizes that we have here but if we can do that this Labor Day in preparation for next year it will give us a better idea of the size that we can shoot given the fire restrictions that will most likely be in place."
He said the Labor Day show will not replace the Fourth of July show.
"If something happens with the Fourth of July firework show we can roll that over into the Labor Day show," he said. "We'll try to shoot for two shows per year depending on fire restrictions and how this event goes this year."
The show will feature 984 firework shells and eight cakes that feature between 20-151 shots. The shells will be between three and 10 inches. The show will be approximately 20 minutes.
SUBMIT FEEDBACK
Click Below to: