Etched in stone: Weintraub passes the torch
Kaibab Forest archaeologist retires after 33-year career
Originally Published: October 27, 2020 12:03 p.m.
WILLIAMS, Ariz. — If anyone thinks Neil Weintraub will fade into the woodwork following the recent announcement of his retirement, then they don't really know Neil.
After a 33-year career as an archaeologist with the US Forest Service, Weintraub plans to hang up his gray and green, yet continue his passion to preserve and protect the Southwest's cultural resources and maintain his deep involvement with the communities of Williams and Flagstaff.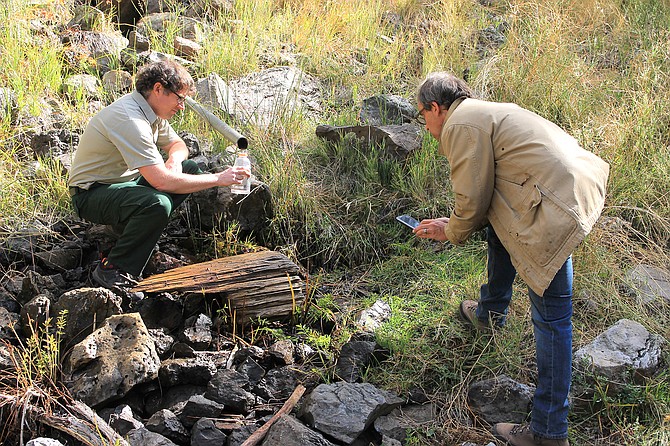 "Now I can do all the fun things I've wanted to do on the forest," Weintraub said. "I can go explore the places I never got to survey."
Although he wore the hat of South Kaibab Zone Archaeologist for most of those 33 years, Weintraub's love for the wilderness and the people of northern Arizona led him to be an active participant with multiple organizations in the community which include serving as a member of the Willow Bend Environmental Education center, volunteering and raising money for Big Brothers Big Sisters, coordinating races as the co-founder of the Northern Arizona Trail Runners Association and leading the northern Arizona division of the Arizona Site Stewards program.
"There's never a dull moment for me," Weintraub said. "Being on the AZ Trail, putting on races, getting back into the woods and now the Site Stewards program."
As a highly skilled archaeologist and community partner, Weintraub has received numerous accolades such as the 2020 Professional Archaeologist of the Year by the State Historic Preservation Office and Arizona Preservation Foundation, the 2019 Governor's Heritage Preservation Honor Award for restoration of the Kendrick Peak cabin, and the Arizona Daily Sun's Citizen of the Year in 2016.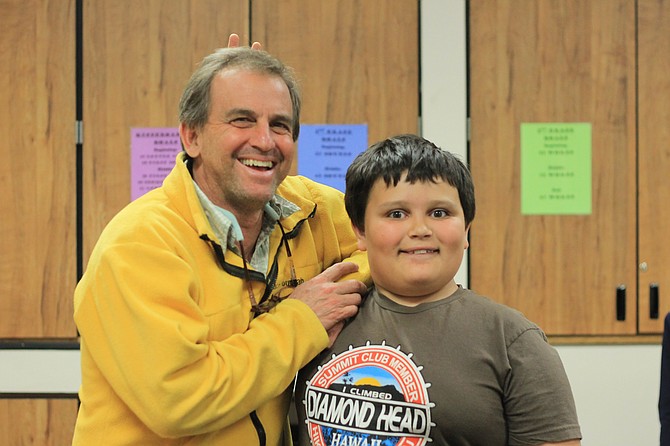 Reaching out to the community has always been important to Weintraub whether its work related or through personal interests. Weintraub said he is proud of the work Kaibab National Forest has done in reaching the public through education of forest resources.
"We are being more proactive than in the past," Weintraub said. "There was a history of cultural resource management to "Leave it alone, avoid it, don't do anything to it," and I think we've come far away from that."
Weintraub's efforts to preserve cultural resources through education has played out in different ways.
In collaboration with The Arizona State Historic Preservation Office (SHPO), a division of Arizona State Parks, Weintraub and other staff have organized local lectures and hikes for Archaeology Month each year. These events have grown with community efforts as local experts began sharing topics such as the history of railroading, sheep ranching, aviation and the Civilian Conservation Corps in northern Arizona. The series also includes hikes to historic locations such as Stone and Steel Dams near Ash Fork, and the petroglyphs at Keyhole Sink.
"I think that has been one of the big contributions in the last 20 years," Weintraub said. "We're really gotten the community involved in helping us protect some of these resources."
Another way Weintraub reached the community is through partnerships with schools such as Northern Arizona University. Almost every year, Weintraub took students to Kendrick Mountain where work continues on the historic cabin, or he brought them to other historic locations on the Kaibab that needed clearing or stabilization.
"Partnerships for the Kaibab are critical," he said. "Finding outside folks to help us do our jobs helped tremendously."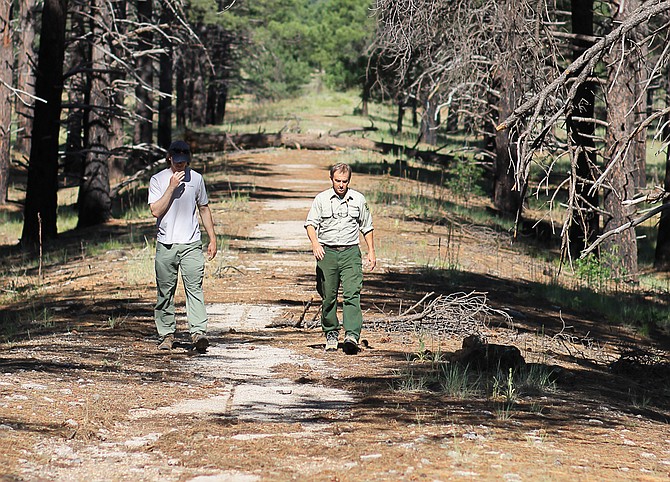 Weintraub said as people learn more about the cultural resources, they understand why and how to protect them. He said one of the most disappointing incidents of his career was when the petroglyphs at Keyhole Sink were vandalized in 2010.
"That has always been the big challenge," he said. "We try to stress to people to not pick up artifacts, don't destroy rock art. One, it's against the law — they are stealing. And two, you are destroying a history that can never be replaced."
There are more than 6,000 archaeological and historic sites that have been discovered on Kaibab National Forest, which includes historic and prehistoric sites. The majority of these sites are associated with "Cohonina," who occupied the Kaibab between AD 700 and AD 1100. They left stone houses, pottery sherds, stone tools, grinding stones and rock art across the forest
Other cultural resources include historic railroad beds, fences and cabins.
Weintraub said the unique thing about Forest Service lands is the freedom to discover.
"In the National Forest you can explore 24 hours a day, seven days a week," he said. "As long as they aren't taking artifacts or damaging the sites, it's perfectly fine to go out and make a discovery. That's what we are hoping by bringing it to the public and sharing a lot of our places."
Although the human impact on cultural resources can be significant, Weintraub said the increase in wildfire activity and intensity is one of the biggest challenges to archaeology.
"The Kaibab has a long history of archaeologists working with the fire teams," Weintraub said. "I continued doing that and we started seeing all these opportunities where we could work with these fire teams to protect these sites and reduce the fuels on them."
Although fire is a natural component of the Earth's ecosystems, and many historic and prehistoric sites have withstood some of the detrimental effects, thermal effects vary depending on the type of material such as lithics and ceramics, and the physical makeup of the material such as sandstone or wood.
"As we began putting fire on the landscape through controlled burns or lightning strikes, we started seeing opportunities where we could work with fire teams to protect sites (cultural) and reduce the fuels on them," he said.
Weintraub said archaeologists regularly are assigned to firefighting teams during wildfires, but the use of prescribed fire as a preventative measure has been very beneficial.
"We can better see the historic resources and bring the fire right to the edge and protect it from the next fire," he said.
As Weintraub looks back on the past 30 years, he said the biggest advancement to cultural preservation has been through evolving technology.
"The internet showed up half way through my career," he said. "I saw that as an opportunity for public education. We could use historic photos to demonstrate the change in the forest and share this."
Weintraub said the surveying and cataloging of historic sites has been moved online which allows greater access to other agencies.
"The state preservation office is in Phoenix and they can't always come up and see the places we are talking about when we send them a report," he said.
Although Weintraub is beginning to adjust to life outside the U.S. Forest Service, his plans still include cultural preservation. He is already busy coordinating Flagstaff and Williams volunteers for the Arizona Site Stewards program, another division of Arizona State Parks.
The Site Stewards program was developed by Gov. Bruce Babbitt and an archaeological advisory group to support the protection of cultural sites on public lands. Volunteers report any destruction or vandalism of prehistoric and historic archaeological and paleontological sites in Arizona through site monitoring. Stewards are also active in public education and outreach activities.
"Public education and finding ways to spread the word is important," Weintraub said. "Those are challenges, but also the fun part of the job."
As Weintraub steps away from his professional career, he said the most difficult part of departing is saying goodbye to his coworkers.
"Its the people, my coworkers, who have embraced working together, solving problems and finding solutions." he said. "Getting around that team circle and working on a project together."
SUBMIT FEEDBACK
Click Below to: