Collision on SR 64 results in death of beloved carriage horse
Originally Published: November 24, 2020 12:41 p.m.
WILLIAMS, Ariz. — Williams is mourning the loss of one of its favorite downtown fixtures.
Razzy the carriage horse was killed in a wreck Sunday afternoon.
On Nov. 22 around 3 p.m., a truck and horse trailer belonging to Grand Canyon Carriage Works collided with another vehicle on State Route 64, north of Williams.
No persons were injured in the collision, however, a horse was trapped in the damaged trailer and had to be put down, according to the Arizona Department of Public Safety.
"As a result of the collision, the horse trailer sustained considerable damage," said DPS spokesman Bart Graves. "A horse inside the trailer became trapped and had to be put down."
According to the carriage company, the driver, known locally as "Cowboy" escaped relatively unharmed, but the horse trailer was heavily damaged with its 26-year-old Belgian Heavy Draft horse trapped and badly injured.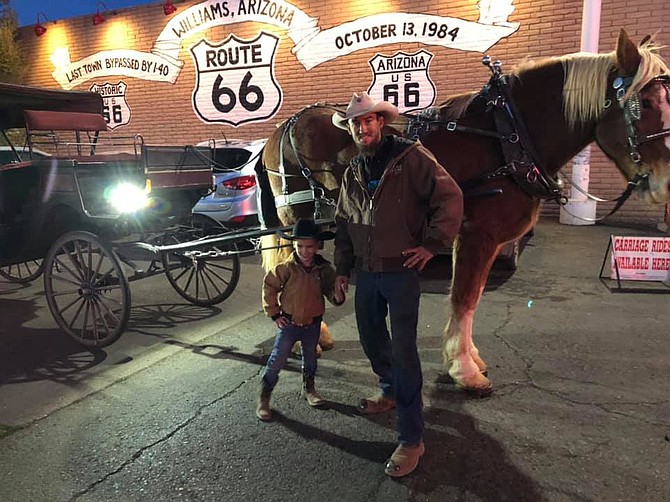 "Yesterday we lost a great horse. He was more than a horse – his name is Razzy. " the owners of the Carriage Company said in a Facebook post. "He has been a part of this family for 23 years. He was a friend, brother, a teacher (and) of all else he's been a part of this family for so many years and it's sad to know that he is forever gone but never forgotten,"
The owners thanked the community for their support.
"I want to thank everybody for all the condolences. They do mean a lot to us right now," they said. "We're just trying to deal with the loss of not just a horse but a family member but we do appreciate all the good words and prayers that everybody has sent our way we do appreciate them very much."

Murphy's Towing & Truck Repair assisted with the removal of Razzy from the wreckage.
Grand Canyon Carriage Works has operated in Williams since 1998, when they offered seasonal rides during the summer. In 2001, they made Williams their permanent home. Razzy was the sole horse for the business.
Grand Canyon Carriage Works is creating a GoFundMe page to help replace the horse and trailer. More information is available at this link.
---
SUBMIT FEEDBACK
Click Below to: