A passion for the game: Catheryn Redmond takes Grand Canyon Phantoms to state
Originally Published: March 17, 2020 9:38 a.m.
GRAND CANYON, Ariz. — Although new to teaching and coaching, Catheryn Redmond's basketball experience, her personality and humble disposition portray a talented woman, who in a short amount of time has made a major impact on both the boy's and girl's 2019-2020 basketball seasons at Grand Canyon School.
Redmond was recognized at the end of the season when she was selected as the 1A Central Region Coach of the Year. However, Redmond's passion for the game started long before the 2019-2020 season.
From the moment she stepped on the court Redmond told the Phantoms to have a winning attitude.
"I don't care what your record was last year, I expect you to win," she said.
And they did.
"We didn't do fancy plays — I told them to keep their movement simple," Redmond said about her coaching. "Little things like not to worry about the three-point shot, but focusing on what their pinky is doing during their throw. I told them to pay attention to what their bodies were doing."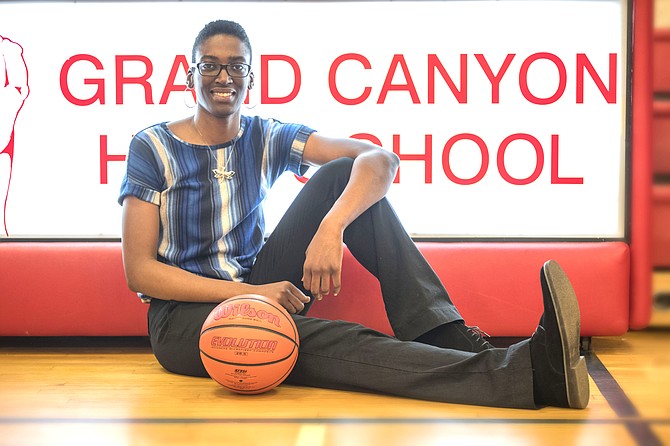 Redmond said she threw a lot of new techniques at both teams this season.
"The experience and level that I've played has helped me to understand the nuances of basketball and that's what I tried to teach them," she said.

Redmond not only played on a high level Division I college basketball team, but also traveled to Terrassa, Spain to play on a team.
Grand Canyon School Principal Matt Yost said Redmond has been an asset to the school's sports program through the basketball season.
"Cat has been a great basketball coach for us this year," he said. "The fact that she coached both the boys and girls team is a testament to her dedication and love of the game. Furthermore, the fact that our girls team made it to the final four of the 1A state tournament beating two teams that were seeded higher is amazing. Beating the number one seeded team in the process was outstanding. (We are) so proud of our teams and the great job by our coaches to develop and grow our players."
Redmond said the hardest part of preparing for the tournament was convincing the teams to realize they had a chance of winning.

"In the beginning of the season, some felt that way but as the season progressed everyone had a positive attitude," Redmond said.
Lady Phantom's point guard and Most Outstanding Player Cayli Miles, said the 2019-2020 season couldn't have ended any better.

"Coach Redmond was new to the Phantoms but she definitely knew what she was doing," Miles said. "She made connections with all of us on and off the court. If it was teaching us something new or joking around with the teammates. It was always a good time. As a senior, I'm very glad that she was my coach for my last year. We made it to final four for the first time in a while. I'm thankful Coach Redmond and Coach Jessie Magna for making this season a memorable one."
Redmond agreed that having Magana as assistant coach was a huge help because of the experience he has coaching the Phantoms.
"Magana was a great help to the girls basketball team," she said. "He helped with break ground drills and because he's been here several years the girls knew and liked him. He has great insights and knew things about the team I couldn't have known."
Elementary teacher and mother of two students on the boys and girls basketball teams, Peg Lyle said Redmond's experience was what helped the team advance in the tournament and throughout the season.
"Coach Redmond's experience and incredible dedication brought Phantom's basketball program to the next level," she said.
Redmond moved to the Grand Canyon with her fiancé, Boaz Curry-L from Dallas, Texas. Their move led them to employment at Delaware North where Redmond worked as first a cashier then in security with the company. Her fiancé works as a chef. He also has a degree in music and is an accomplished musician, which helped him obtain employment as the music teacher at Grand Canyon School. This opened up an opportunity for Redmond to then work as a substitute teacher at the school.
When asked what she loved most about living and working at the Grand Canyon, Redmond said she loves the community and seeing how close students are to one another.
"I lived in big cities most of my life and went to large high schools so this is something I haven't experienced," she said.

In her free time, Redmond and Curry-L like to travel and hike. They recently returned from a trip to Mojave Lake and last summer hiked rim-to-rim-to-rim in Grand Canyon with Curry-L's two children.
SUBMIT FEEDBACK
Click Below to:
More like this story