Grand Canyon Food Pantry looks forward after first year
Pantry now open Monday evenings, seeking ways to better serve local community
Originally Published: March 10, 2020 9:46 a.m.
GRAND CANYON, Ariz. — It's been close to a year since a food pantry first opened in Grand Canyon National Park, and things are going well. They have regular visitors and volunteers and have plans in place for growth.
Grand Canyon Food Pantry's (GCFP) overall goal is to make sure people in the area are able to access help when they need it.
To help accomplish this, the pantry recently rolled out new hours on Monday evenings. The current system at the pantry is designed to act more as a supplement rather than a complete replacement of regular trips to the grocery.
Their main building, used to serve as the park's jail, is set up like a miniature store to allow people to choose items that best meet their needs.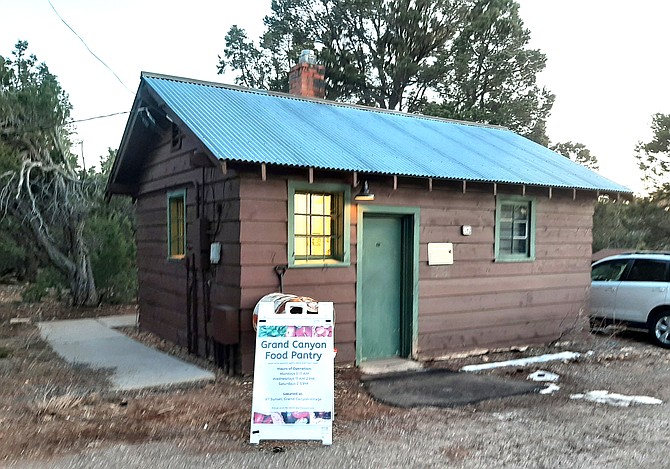 Items stocked at the pantry are mostly rescued food, donated from area stores, including the Texaco mini mart in Tusayan and Delaware North's market in the park. Donations are supplemented by food items from St. Mary's Food Bank out of Phoenix.
According to Mike Scott, one of the pantry's main founders, GCFP is currently using about one ton of food a month, effectively removing it from the waste stream. Scott, who moved to the area for retirement, spends a lot of time driving food between places, and taking care of some organizational aspects behind the scenes.
"I know that I'm actually doing something that's worthwhile and that people need," he said. "That's a nice feeling."
Scott's previous employment in Maine gave him the skills to help him do this well. His work with disadvantaged people also helped when he and others were thinking of best practices for setting up the pantry's underlying structure.
GCFP is a qualifying Arizona charitable organization as well as having Federal 501 (c)(3) status, which means donations can provide tax benefits. The pantry is also set up as an Amazon Smile charity. The pantry has been established as "corporately sound" in part to meet requirements of working with St. Mary's Food Bank, but also because it made sense for the organization.
"A lot of food pantries start off with really good intentions," Scott said. "But two things tend to happen to them: They run out of a source of food… [or], many of the organizations like this, they start with one person who's the key person, the driving force who does everything. [If] something happens to them…all of a sudden, the thing is gone."
Having a larger organization like St.
Mary's helps address the first problem. If for some reason their supply of locally rescued food isn't enough to meet community needs, St. Mary's would be both willing and able to send in more supplies. Scott called it their "ace in the hole."
GCFP's leadership is also set up to try and prevent the second problem. The pantry is led by a board of directors, 12 to 13 members who represent a broad cross-section of the community. Scott said the hope is that this will increase the pantry's long-term sustainability.
Getting the word out
A big goal for the organization moving forward is finding ways to reduce the stigma around seeking help. Food insecurity affects people from a variety of circumstances and is often associated with a sense of shame. The Pantry takes meticulous care to maintain their clients' privacy and create a space where people are comfortable coming to receive aid.
The other question with outreach has to do with the specifics of operating in a national park. The majority of residents will be here only for a short time. Making sure the word gets out is a task that has to be done over and over again. Sam Langner, a graphic designer for Xanterra's local newsletter, has helped by creating logos and informational fliers for the pantry. There is also continual efforts to spread the news by word of mouth.
Hoping to Grow
A permit application from GCFP is currently making its way through Arizona's state government. The Pantry hopes to be able to renovate their two buildings to better serve the community. Adding electricity to the second building in order to be able to accept and store more food from donors is a priority.
"When we get [the electricity part of the permit] approved, and get the approval to make changes here, we will be able to offer a much broader selection of especially fresh items," Scott said. "[Especially] dairy and produce, because we'll be able to store it much more effectively."
Being located in an area with historic and geographic significance can make the process of getting a permit more complicated, however. There are a lot of factors that need to be taken into consideration, from matching original materials to ensuring that no archaeological sites will be disturbed in the process. Scott said he is optimistic about being able to enact these changes relatively soon, however, he isn't sure of the timeline. Until then, the pantry wants to continue to provide the best service they can.
More information is available at gcfoodpantryinc@gmail.com or (207) 229-1228.
SUBMIT FEEDBACK
Click Below to: