Williams Elementary-Middle School celebrates February Students of the Month
Originally Published: February 18, 2020 10:08 a.m.
Williams Elementary-Middle School (WEMS) recently announced its February Students of the Month (SOM).
The pre-k SOM is Teddy Butzlaff. Teddy is a student who comes to school ready to have a good day. He encourages and helps others to aim for that good day as well. Teddy is creative, inventive and always willing to participate in classroom activities. Teddy soars towards success daily.
Jose Pantoja Lomas is the kindergarten SOM. Jose has learned so much this year. We are so proud of him. He is very respectful of adults, never gets his name on the board, does his homework, and is a good friend to everyone in the class. He takes care to always do his best work. At the beginning of the year he was shy to work at the smart board but now he is confident. Jose is a great example of Soaring and we're so glad he's in our class.
The first grade SOM is Ethan Smith. Ethan is new to our school this year. Ethan was a little hesitant and shy at first. Now is he is making new friends and involved in our classroom learning. Ethan is kind to everyone, peers and adults. He is always on task and asks for help when needed. He is very respectful and will wait patiently if I am helping someone else. He is a great addition to our first grade class. I really love seeing his smiling face each morning. Keep up the great work and attitude.
The second grade SOM is Nykaela Tapia. She is an enthusiastic learner who always finishes her work and is eager to help her peers. Nykaela is courteous and shows good manners in the classroom. She consistently completes her homework and is a valued member of our classroom. It has been a pleasure to have Nykaela in class. Congratulations and keep up the good work.
Rayne Salinas is the third grade SOM. Rayne is new to our school this year and has proven to be a valuable asset to our classroom. Rayne is a great example to those in his class. Rayne always does his very best on all assignments and takes his assignments seriously. Rayne is a pleasure to have in class and has many friends due to his pleasant nature and kind manner. Rayne is doing an amazing job on learning cursive writing and puts forth great effort in all things presented to him. His teacher is happy to have Rayne in her class this year. Congratulations Rayne.
The fourth grade SOM is Bethany Walker Domen. Bethany excels in academics and behavior on a regular basis. Bethany is a leader in class as she models a positive attitude and excellent effort in all of her classes. She is responsible, respectful, and brightens our day with a friendly smile. She goes above and beyond with everything she sets her mind to. We are very proud of Bethany's accomplishments this school year. Keep up the great work.
The fifth grade SOM is David (Iran) Rojas Cabrera. Just one of the reasons David was chosen is because he is a positive role model for his peers. David always has a smile on his face for everyone. He is a very studious individual and always tries his best in everything he does. He is always willing to help any of his fellow students if they are struggling. David is an excellent example of a Falcon who SOARS.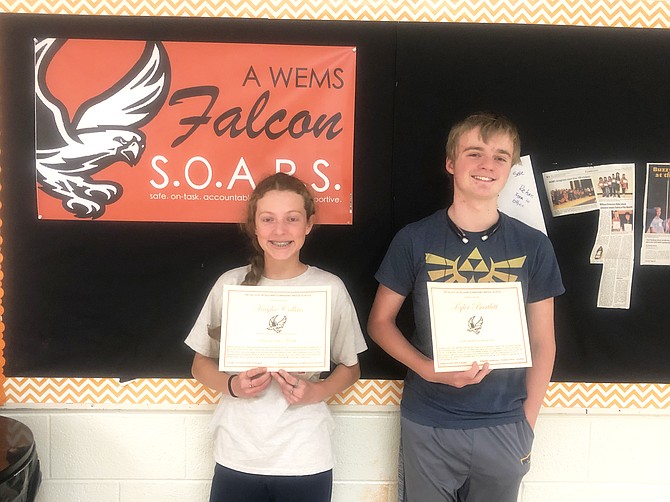 Middle School
Williams Middle School female SOM is Kaylee Collins. Kaylee's continual good humor makes her a delightful addition to any classroom. Her willingness to lend a hand makes her invaluable to her teachers, and she eagerly shoulders any task asked of her, and completes it with a thoroughness and thoughtfulness that will doubles bring her much success in her future. Kaylee makes every day brighter simply by being herself and WEMS is lucky to have her.
Williams Middle School male SOM is Kyler Bartlett. Kyler is an exceptional student who has really become part of the WEMS family this past year. He always has a smile and a witty comment to share, but more than that, he thinks about the world in curious and wonderful ways. His eagerness to learn and his own delight in discovery make him a joy to be around and an honor to teach. Kyler will undoubtedly be an important facet to any community he becomes a part of in the future, and we look forward to seeing the interesting places he will go.
Information provided by WEMS
SUBMIT FEEDBACK
Click Below to:
More like this story