Crime in a small town: Williams PD continues with high call volume in 2019
Originally Published: February 18, 2020 12:12 p.m.
WILLIAMS, Ariz. — A police officer in a small town can be dealing with barking dogs and wrong-way drivers, and in the next moment a barricaded subject and drunk drivers.
Officers with Williams Police Department are not immune to this, but the daily calling volume in Williams has increased tremendously from five years ago as thousands of visitors travel through the town, according to data compiled by the department.
Williams Police Department calls for service 2019
Total calls for service 14,912
Agency assists 593
Suspicious activity 505
Animal control 970
Traffic stops 3,379
DUIs alcohol 26
DUIs drugs 4
Mental health 66
Accidents 171
Citations 582
Disordely conduct 130
Theft 91
Threats 35
Trespassing 44
Assaults 31
Seniors 751
Domestic 53
Burglary 8
Warrant arrests 26
Auto thefts 14
"The city hasn't grow in population much, but it's grown in tourism," said Williams Police Chief Herman Nixon. "People travel more, the economy is good and people are spending more money. Small towns like Williams are getting a bigger influx of people."
The Williams Police Department reported 14,912 calls for service in Williams in 2019. This is just a slight jump from the 13,648 in 2018.
"When I first started as chief 14 years ago, in the winter time it used to be time to board up the windows and go home. You would be lucky to get 3-4 calls a week," he said. "We get them continuously now."
Nixon gave an example of what officers deal with in day.
"Last night we had seven calls for service between 4 p.m. and 2 a.m. and we had two arrests," he said. "That's the difference."
Nixon said most of the calls for service remain the same as they were in 2018.
"Our crime rate has stayed the same," he said. "We would like to see some decreases, but our violent crimes have never been high."
In 2019, Nixon said the department dealt with two barricaded subjects that required significant officer time.
"Fortunately most of our crimes don't involve someone setting out to hurt somebody else," he said. "They were either a domestic or threatening to harm themselves. None of that is good, but it wasn't a threat to the rest of the community."
Officers also spent a significant amount of time dealing with assaults, disorderly conduct and transient activity.
"Love's truck stop is really good for the city tax wise, but it's a hub," Nixon said. "We had 164 calls there last year. That's a lot. It's a wide variety — everything from private property accidents to verbal disagreements, fist fights, shoplifting and transients disturbing the peace."
Nixon said in addition to those calls, a lot of officers' time was spent on the road near Love's.
"The worst thing is the hill up there," he said. "When it snows we spend half a day or more directing traffic because trucks can't get up there."
Nixon said violent crimes, drug offenses, DUIs, domestic violence and thefts remain similar to 2018. The department recorded 15 drug offenses, 26 DUIs, 53 domestic violence incidents and 91 thefts in 2019.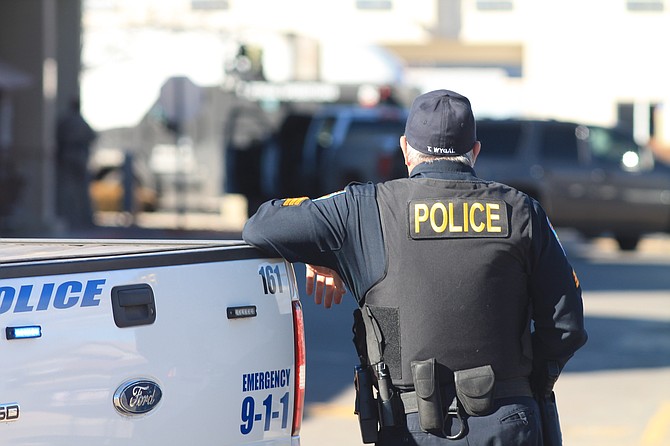 "Every city has a drug problem," he said. "With a small department it's hard to work drug activity. We farm out a lot to the Arizona Gang Task Force, the Metro Drug Task Force. Our guys are actively involved but they can't do the undercover stuff."
Nixon said one concern he has is with the high blood alcohol content (BAC) of recent DUI arrests.
"What surprised me was the average BAC for DUIs was .20 this year," he said. "That's ridiculous. Fortunately we have more citizens calling in DUIs now. They are more aware of the dangers of impaired driving."
Nixon said Williams officers routinely deal with out-of-town visitors who disregard impaired driving laws.
"We find people, including hunters, who come up here thinking they're in the woods of northern Arizona and can drink a 12-pack and then drive down the road," he said. "You just can't do that. All we need is someone blowing a stop sign and killing one of our kids. We all live here."
Nixon said the 14 members of the Williams Police Department have different rolls to perform. He said call volume can vary year to year depending on personnel.
"We need our young, aggressive officers to get out and get the DUI and drug arrests," Nixon said. "But we also have a group of officers who are older and have the experience to handle any call out there, but aren't necessarily out writing tickets."
Nixon said the addition of a victim's advocate to the department was a positive move in 2019.
"April (Zicopoulos) has been a godsend," he said. "She ran with the program and took us to heights I never thought would happen."
"Williams is a safe city to live -— you can still leave your doors open. Your kids can still ride their bikes down the street. We're a safe community and my goal is to make sure we always stay that way." ~ Williams Police Chief Herman Nixon
Nixon said Zicopoulos provides victims with the information they needed to receive services and follow cases through the court system. She also has formed relationships with law enforcement agencies, county and state victim witness services and the Coconino County Attorney's Office to adequately handle cases.
"She runs these cases from start to end," he said. "It has been a huge benefit to the victims and our officers."
Nixon said he plans to continue other successful programs at the police department. These include the summer intern program and the senior welfare check program.
"We have two interns every summer," he said. "Our goal is to show them all the aspects of the agencies. We've had six interns since it started and five are currently in law enforcement."
Nixon said he is especially proud of the senior welfare check program.
"We have saved four or five lives because of that program," he said. "We have found them lying on the ground, some with broken bones. We have helped a lot of families."
Nixon said the department calls the seniors twice a day. If there is no answer, officers go to the residence to check on their well-being.
Nixon said future plans for WPD in 2020 include cleaning up abandoned vehicles on city streets and handling illegal parking.
"Too many people are parking on the wrong side of the street and on sidewalks," he said. "I get continuous complaints about that. We are going to be enforcing that."
Nixon said despite the large call volume, he believes Williams is still a great place to raise a family.
"Williams is a safe city to live — you can still leave your doors open," Nixon said. "Your kids can still ride their bikes down the street. We're a safe community and my goal is to make sure we always stay that way."

SUBMIT FEEDBACK
Click Below to: