Remembering the sign man: the art of Perico Avila
Originally Published: February 4, 2020 10:52 a.m.
WILLIAMS, Ariz. — In the deepest depths of our marrow an artist lies in slumber, waiting for the trumpets of realization to howl so that one day, it may be birthed into reality. Federico "Perico" Avila was born April 3, 1934 at the Williams Medical Center and as he would disclose to all those that had the pleasure of sharing time with him, he arrived with brush in hand.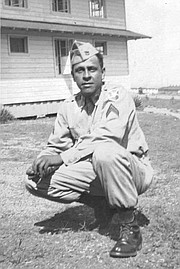 Born of immigrant parents, Perico was the second youngest of five children; he was united in life with his older siblings Ruth, Socorro, Zeke and younger brother Manuel. The Avila family would ripen in unison with the sap soaked pines and rutted streets of Williams through the early hours of their lives; the children fertilized their growing minds with knowledge courtesy of the Williams Unified School District while their father labored at the local sawmill and mother nurtured their growth. As Perico grew into a young-man, he was overcome with a desire to release his inner artist. As a Williams High School freshman, Perico would find his freedom. He was a vivacious art student and sculpting, painting and sketching became his avenues for self-expression. Although his art instructor failed to glimpse the talent and determination; telling the impressionable artist that he would never make it as a painter (words that would punish Perico until the day he died).
In 1953, Perico graduated from Williams High School. During his four years as a student at Williams High, he had excelled as a basketball player, briefly rattled his brains in a leather skullcap on the gridiron and landed a fitting position as art editor of the 1953 edition of the Tusayan yearbook, yet, not one of these accomplishments produced the satisfaction he desired. Nothing could match the feeling of a colored brush floating across a vacant canvass.
After graduation, Perico began a wild goose hunt among the brick buildings and dusty streets of Williams in search of gainful employment, but securing work in a small town can be arduous.
"After my dad graduated he started off by painting houses and doing the pen striping on cars at a local auto body shop," said Freddie Avila, Perico's oldest son. "My dad was doing everything on his own — he didn't work for anybody but himself. They used to make fun of my dad because he wasn't licensed, he wasn't a contractor, and he wasn't employed by a big company. The professional painters would call him and his co-worker scabs, but my dad took it and kept plugging along."
Perico could also be spotted mopping the aged linoleum at the hospital and was even immortalized with hospital staff in a colorless photo in front of the building in the early 1950's.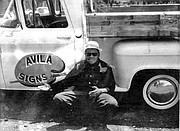 He took work where work was needed and holed away his earnings with the discipline of a miser. There was only one place he would willingly release his nickels, the Corner Drug Store. Avila had a standing appointment with a curvy, perspiring coke bottle on the daily, he would take residency at the counter sipping down the mahogany tinted syrup while making conversation with the pharmacist behind the counter, Ivan Smith. Avila did not realize it at the time, but the catalyst to his future was the thin man across the counter who popped the tops off his ice cold sugar water.
Smith wasn't just the local pharmacist — he was a member of the school board and a pillar of the community. He possessed an innate knack for deciphering the characters of those he welcomed into his space and Perico was in his space often. The druggist recognized the artist within Perico and kindly suggested that he should purchase some paint and brushes and make a run at painting signs. One day while Perico was enjoying his afternoon beverage, Smith leaned into Perico and with laser precision pierced the young man's empty gaze, with a stern tone he whispered, "If you don't go and get some brushes, I am going to get them for you."
Perico knew that he meant business. That moment spurred the aspiring artist to purchase his first art kit and to take the first steps in establishing a career that brought meaning to his life from that day forward.
While Perico strived to hone his skills and walk the path that was laid in front of him, a war was taking place an ocean away.
In 1955, Perico enlisted in the U.S. Army to fulfill his patriotic duty and spent two years in theatre on the Korean battle fields, but due to suffocating bouts with asthma, he was forced to return back to the States where he received an honorable medical discharge. Perico then returned to Williams and swiftly established a business he labeled "Fred H. Avila Signs." Local merchants hired the sign painter to promote their businesses and goods on the translucent pane glass windows that adorned the face of their buildings. While work was minimal in the beginning, it would sprout into a blossoming career.
In the early 1970's, Perico found himself on the door step of becoming a father, he was also gifted with a position painting signs for the U.S. Forest Service, the first of its kind. As the years passed from one to another, Perico would be blessed with four healthy young boys, a loving wife and a profession that placed his illuminated soul among the moon and stars. He would accept the responsibilities of commander at American Legion Cordova Post 13 for several years and became an activist for veterans both living and dead. He would eventually retire from the USFS, but would continue his more than 60-year endeavor of decorating the town's windows with holiday cheer and good tidings.
"The only time my dad would sit down and take a break is when the Phoenix Suns were playing," Freddie said. "He was always doing something; whether it was painting windows, creating and painting signs or driving a disabled veteran to the VA Hospital, he was always on the go."
Perico was one of the fortunate who had a dream and pursued it long enough to see it manifest into reality. The legacy that he left behind is a concrete lesson that no matter how big or ridiculous your dreams may be, no matter how harsh the criticism swells from those around you, it is up to us to discover the passion within, and release it into the world.
SUBMIT FEEDBACK
Click Below to:
More like this story