High mercury levels detected in crappie at Sante Fe, city water unaffected
Originally Published: February 4, 2020 9:58 a.m.
WILLIAMS, Ariz. — Because of elevated levels of mercury, the Arizona Department of Environmental Quality (ADEQ) is advising the public to limit their consumption of black crappie caught in Santa Fe Lake in Williams.
Other Arizona lakes under similar advisories include northern pike and walleye in Upper and Lower Lake Mary, striped bass in Lake Powell and largemouth bass in Horsethief Basin Lake, among others.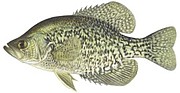 Under the advisory, ADEQ recommends that adults limit consumption of black crappie from Santa Fe Lake to 2.5 ounces (uncooked weight) per week and children 12 years of age and younger limit consumption to 2 ounces (uncooked weight) per month. Advisories do not apply to commercial fish sold in markets.
According to ADEQ, drinking water at Santa Fe Lake is not impacted by elevated mercury levels in the fish and said the drinking water meets federal standards.
"(We) want to make sure that the people in that area understand that the drinking water system is meeting all standards. This is more about fish living long term, they tend to bioaccumulate mercury in their tissue and that's really where the issue lies, not necessarily in the water quality itself," she said.
Additionally, the city of Williams was contacted by ADEQ and they said they were aware of the advisory.
City councilman Bernie Hiemenz said the water department regularly tests the city's drinking water per ADEQ regulations, and found the mercury levels within safe drinking standards.
He said the city is currently using water from City Dam in the water system until water levels drop at the reservoir, and the city will have no issue using water from Santa Fe when needed.
"City Dam is going to overflow anytime so they're pulling (water) out of City Dam," Hiemenz said. "There's nothing wrong with the water (at Santa Fe), they found a little mercury in some fish."
Generally, contaminant levels found in water are significantly lower than those found in fish tissue. Therefore, fishing, bird watching and other recreational activities at the lake are not affected by this advisory.
About Santa Fe Lake
Santa Fe Lake is home to a variety of fish. During the spring and summer, Arizona Game and Fish Department stocks the lake with rainbow trout, which can be eaten in unlimited amounts. Any stocked fish at Santa Fe will not have mercury accumulation.

"It's only for black crappie," Jordan said.
Mercury as a pollutant
Mercury in the environment can come from various sources and cause numerous health problems such as damage to the central nervous system, depending on the exposure; infants and pregnant or nursing mothers are considered most at risk to possible health effects; fish can accumulate elevated levels of mercury when larger fish consume smaller fish and insects.
For more information and a complete list of fish consumption advisories in Arizona visit https://www.azgfd.com/fishing/fishconsumption/.
SUBMIT FEEDBACK
Click Below to:
More like this story