U.S. Postal Service, CDC say coronavirus unlikely to be spread through mail
Originally Published: April 14, 2020 12:12 p.m.
WILLIAMS, Ariz. — Neither snow nor rain nor heat nor a worldwide pandemic can keep the U.S. Postal Service from delivering mail. Such is the case in Williams and other post offices around the nation.
As an essential service, the USPS has continued operations during the coronavirus pandemic —they may even be making a profit.
According to Williams Postmaster Kent Boyack, the Williams Post Office has seen a dramatic increase in packages being received and sent.
"Definitely. We've increased our intake by about 20 percent," Boyack said. "People are mailing things out too."
To help protect employees and the public, the post office has installed sneeze screens at their customer service window and employees are cleaning high traffic areas four to five times a day. Postal employees have also been supplied protective masks, gloves and hand sanitizer for their use.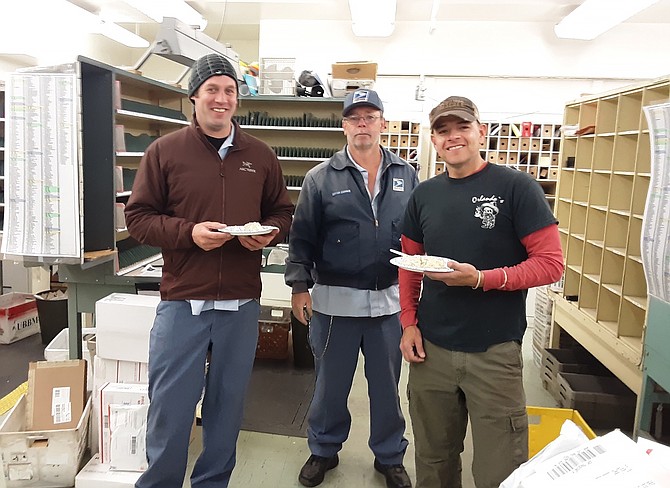 Additionally, Boyack said USPS is now allowing carriers to sign for customers as long as they've made contact with the customer and get their permission.

"So they (customers) don't have to handle our scanners and our paperwork," he said. "Other than that, it's pretty much business as normal."
One hot item that postal workers have seen an increase in shipments are masks.
According to postal clerk Robynn Eckel, community members have been sending out multiple boxes of masks.

"We're so thankful for the community and the effort they're putting in," she said.

But how safe is the mail?
Pretty safe.
According to the USPS, current Centers for Disease Control and Prevention (CDC) and World Health Organization (WHO) guidance continues to indicate there is no evidence the virus is spreading through the mail.
"We've received numerous notifications through the postal service that authorities have determined that the coronavirus cannot be transmitted on mail or packages," Boyack said.
According to the CDC, "in general, because of poor survivability of these coronaviruses on surfaces, there is likely very low risk of spread from products or packaging that are shipped over a period of days or weeks at ambient temperatures. Coronaviruses are generally thought to be spread most often by respiratory droplets. Currently there is no evidence to support transmission of COVID-19 associated with imported goods and there have not been any cases of COVID-19 in the United States associated with imported goods."
Regardless, some countries are taking precautions. Boyack said there are international countries that are no longer accepting mail in packages from the U.S.
"We have a list of international countries that are no longer accepting mail in packages from the United States," he said. "Domestically, as far as I know, we haven't seen anything like that."
Additionally, USPS recently said it has not experienced any capacity issues due to reduced airline routes.
"There are no domestic air capacity issues at this time," a recent release stated. "The Postal Service continues to work with International air carriers and contract air carriers to keep mail moving."

For businesses throughout the U.S. that have had to close, USPS has a system set up to hold packages and mail.

"We're allowing them to put their mail on hold and then pick it up at the post office at regular intervals," Boyack said.
He said there have not been very many requests for this service in Williams.
"Only a few so far," he said. "Most people have arrangements for their mail, even when they're not open. Somebody picks up their mail."
For now, Boyack said the post office will follow recommended guidelines as operations continue.
"We are just asking (the public) to follow the guidelines put out by the CDC," he said. "They recommend you wear face covering anytime you go out into public and maintain a reasonable distance of about six feet when you're around other people — social distancing. We ask that they abide by those recommendations."
SUBMIT FEEDBACK
Click Below to:
More like this story