Native Americans from five tribes come together to discuss Grand Canyon's indigenous history
Many tribes, one voice: "We are still here."
Originally Published: September 17, 2019 11:30 a.m.
FLAGSTAFF, Ariz. — Grand Canyon was declared a national park in 1919, but indigenous peoples have called the area home for much longer.
At a Future of the Colorado Plateau forum Sept. 12, five traditionally-associated tribes came together to share how their relationships with the park changed over the past 100 years, and how they hope to evolve their presence in the park over the next century.
The tribes, as well as representatives from Grand Canyon National Park, have formed an intertribal coalition to discuss how Native people and their histories can be implemented at the park to give a more complete picture of the area's colorful past and present.
A century of exclusion
Jason Nez, a Navajo and archaeologist for Grand Canyon National Park, said indigenous people have existed within the region and Canyon for at least 16,000 years, but began to face a slow erasure from their aboriginal lands when Europeans showed up in Newfoundland as early as 1,000 B.C.E.
Nez said during the park's centennial celebration, the focus was mainly on white men, rarely if ever mentioning the strong Native presence.
"We just our one-hundred year celebration, we had all these presentations of people talking about the Canyon," Nez said. "As a Native person, we're talking about Theodore Roosevelt, we're talking about Ralph Cameron, we're talking about John Wesley Powell. We have their pictures and their names everywhere. But yet we rarely hear about 97 percent of Grand Canyon's history — the Native occupation."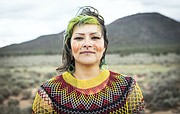 Havasupai tribal council member Ophelia Watahomigie-Corliss was more blunt in her appraisal of the relationship between her tribe and the government.
"The Havasupai Tribe has occupied the South Rim area since time immemorial, and the creation of the national park were some of the darkest days for the Havasupai," she said. "Did they think the Canyon was already a prison? We were confined to 518 acres."
Watahomigie-Corliss spoke of the tribe living under an impending sense of fear as colonists made their way west, both on foot and via the railroad. When Fred Harvey and the railroad arrived to develop the South Rim, Watahomigie-Corliss said many Havasupai went to work for the railroad, living in a makeshift work camp still known as Supai Camp.
"They took over our entire life," she said. "They turned the Havasupai trail down into our village into Bright Angel Trail. They used our workforce to build the railway, buildings and trailwork, all for money."
But Watahomigie-Corliss said the darkness for her people didn't end there. During a winter in the late 1930s or early 1940s, she said park employees raided Supai Camp, forcing its entire workforce to march 17 miles down the trail back to Supai Village while homes were burned. Although the camp still remains occupied today, Watahomigie-Corliss said another attempt to empty it was made in the 1970s, when the park superintendent at the time ordered the camp shut off from food, water and sewer utilities.
"I'm absolutely offended at seeing how many people have visited the park and have no idea who we are," she said.
She went on to say that in order to produce more opportunities for education and interpretation — one of the intertribal coalition's goals — places of interest in the park should have their indigenous names restored. To that end, Watahomigie-Corliss started a petition earlier this year to have Indian Garden renamed Havasupai Garden, after her ancestors who lived and farmed there.
"We're looking to make our relationship better with the national park — and they are better — but we have to level the playing field and understand the histories where we're coming from before we can even consider what will happen in the next 100 years."
Ed Kabotie, a Hopi/Tewa artist, musician and fierce advocate for telling the stories of indigenous peoples of the Colorado Plateau, agreed that not enough representation along the park's main visitor corridor has set back efforts to educate.
"When I think of the Grand Canyon, the first thing that comes to me is fear, to be honest," he said.
Kabotie explained that the Grand Canyon is where all people emerged and is where many of the most sacred Hopi deities live. He called it a very reverential place.
"It's hard to see people come to the Canyon and not have that same respect, not have that same attitude," he said. "It does
feel a bit like Disneyland sometimes when you're there. Not the place, but the atmosphere of the people."
Kabotie said the Havasupai were essentially kicked out of their lands so that the park could exist, and he felt the last century signified 100 years of Native American absence from their aboriginal lands — an assault on their ways of life, from boarding schools to arrests to detrimental mining operations.
He described the park as an important opportunity for tribes to educate the millions of visitors who seek out the park every year.
"Unfortunately they leave just as ignorant as they were when they came about the 500-plus open pit uranium mines on Navajo Nation, about the two-thirds of the population that can't drink their water on Hopi because of arsenic contamination, about the Havasupai fight against Canyon Mine," he said.
Kabotie wants to seek out more opportunities to host events like Rumble on the Rim, in which Native Americans tell their own histories of the park.
"(It's) not somebody else telling our story — not a park ranger, not a video — but us telling our story," he said. "The (Desert View) Watchtower is a great place, but please don't just stick us on a little reservation again."
Many tribes, one voice
Octavius Seowtewa, a cultural resources advisor for Zuni Pueblo, said although the tribe is located in New Mexico, its oral histories and stories provide a rich, detailed history of its place in the Grand Canyon.
Seowtewa said in order to be considered part of the Grand Canyon, the Zuni had the burden of proving their oral histories in an empirical way.
"I've been on 22 river trips down the Colorado … identifying places, identifying information that our ancestors left behind and using that information to try and convince the park service and the people that we are a part of this, we are from this place," he said. "Our oral history states that we are from Ribbon Falls."
Ribbon Falls is a waterfall located alongside the North Kaibab Trail.
According to Seowtewa, the Zuni World includes a lot of the Grand Canyon, as well as other sacred places like the Four Corners, Aztec and Chaco.
Although relations in the past have been rocky for most if not all of the 11 traditionally-associated tribes, one of the most positive things to come out of the coalition is a renewed pledge for tribes to ask for their due with one powerful voice.
Arizona Sen. Jamescita Peshlakai, daughter of late Grand Canyon cultural icon James Peshlakai, said powerful things could happen if indigenous people spoke up with unity.
Through a story about her daughter's first experience with a Christian church, Peshlakai reiterated that all peoples' histories are real to them, whether they be Native or of European descent, and that it's important to understand where the other is coming from in order to move forward.
"We are moving in the right direction — we can take some steps back and some steps forward, but we are moving," she said. "As gloomy as things have sounded here tonight, we are all very hopeful."
The next 100 years
For the intertribal coalition, the next century at Grand Canyon is more than a handful of financially feasible solutions or a few kiosks. The group plans to keep working toward future projects and ideas. Richard Powskey, an elected council member of the Hualapai Tribe, said he hopes indigenous people can work with NPS to improve economic development opportunities for tribes in the future, allowing them to funnel some of the tourism dollars onto reservations.
For Peshlakai, who represents nine different tribes in her district, it's an opportunity to come together and protect the lands they have been entrusted with as Native people.
SUBMIT FEEDBACK
Click Below to:
More like this story