New golf course development heard by P&Z
Originally Published: May 21, 2019 11:02 a.m.
WILLIAMS, Ariz. — Dozens of residents with concerns about a proposed residential development near the Highland Meadows subdivision came to a Williams Planning and Zoning Commission meeting in Williams May 16.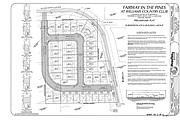 The housing development, called Fairway in the Pines, would add 37 single family homes on 4,000 - 8,300 square foot lots west of Country Club
Drive near Elephant Rocks Golf Course.
Steve Iverson of Phantom Ranch Development came under fire by several residents, including Richard Cole who peppered Iverson and Williams Chief Building Inspector Tim Pettit with questions regarding the development, specifically whether it was deemed affordable housing and the impacts that could have on the area.
"This is not considered affordable," Petitt said. "It is just like the patio homes, the only thing that makes it anything different is the size of the parcels. So it is high quality golf course homes just like your own."
According to Pettit, the property had been rezoned R-2 around 2005, to allow higher density housing. Iverson purchased the 7.27 acre property in November 2018.
"The zoning is in place," Pettit said. "You can't really deny a lot of this. We can look at safety issues, residence issues — anything that we can change to maybe fit the community better."
Pettit said the property had previously been approved to have 45 units, including town home units, on the parcel.
"Mr. Iverson has split them all out to single family lots and reduced the density down to 37 lots," Pettit said.
Cole continued asking Pettit questions about the affordability of the property including whether the development was considered low cost housing, if the development was competing with a new manufactured home subdivision and what the asking price of the homes would be.
Petti said he did not consider it low cost housing, since no supplemental government funds were being used, and he was unable to say if it was competing with the new manufactured home subdivision.
"I don't think those need to be in this discussion, that was zoned a long time ago," Pettit said about the manufactured homes. "They are there to try to help the workforce housing in Williams and it has nothing to do with this."
Cole also expressed concern about water resource availability.
"We are probably in better shape than we have ever been with our water, our wells are doing excellent," Pettit said. "We are not dependent on surface water, we have a lot of wells now."
Pettit said any subdivisions that were previously approved have been calculated into the city's water usage.
"Anytime a new one comes up we calculate it and make sure the source is there," Pettit said.
Other residents voiced concerns about wear and tear on roads such as Cataract Road and Country Club Drive, and possible detours through Highland Meadows Drive once construction begins
"They can't close Country Club," Pettit said. "They will work around it - we will not allow Highland Meadows to be a permanent detour."
Pettit said the previous owner made improvements for water and sewer before the Country Club Drive road work was done around 2006.
"All of that was done in anticipation of this development," Pettit said.
Iverson is asking for a variance of 40 foot setbacks for the smaller units in the development, which planning and zoning will consider.
"It's for lots with a one car garage, smaller units and more affordable," Iverson said.
Iverson said new residents can choose from five to seven home designs.
"It won't look like the patio homes with the same house duplicated over and over," Iverson said. "They will be built with high end materials. The price point of these houses start in the mid 300s and go over 400. These are not affordable houses, these are not first time homes. These are upper end smaller homes for potential retirees.
Iverson, who lives in Highland Meadows himself, said he has almost $20 million in custom homes built in Flagstaff.
"That's the quality and type of home I'm bringing to Williams," he said.
The planning and zoning commission was unable to approve the preliminary plat until Iverson could submit missing information. The commission tabled the discussion for a future meeting.
SUBMIT FEEDBACK
Click Below to:
More like this story