Christian ministry provides community for Grand Canyon workforce and visitors to the Rims
Originally Published: July 23, 2019 9:55 a.m.
GRAND CANYON, Ariz. — When planning her family's itinerary for the Grand Canyon, Ireland native Jean Stewart and her family were adamant about finding a local worship service; so she searched online and found Sunset Worship on the Rim by A Christian Ministry in a National Park (ACMNP).
"My family and I wanted to be sure we didn't miss this service but we had no idea how amazing it would really be," said Stewart, who visited Grand Canyon with her husband, Dave, and their two teen children. "We felt so privileged to be in this amazing place and hear How Great Thou Art sung to the Grand Canyon sunset."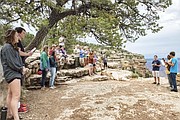 ACMNP is not new to Grand Canyon, the Denver-based non-profit organization has sent students to the Canyon since 1951.

"We have enjoyed serving on both the North and South Rims of the canyon for decades," said Dave Degler, Co-Executive Director of ACMNP. "Our team members have been blessed by their experiences with park visitors, but the most gratifying relationship is found in the close, warm, and inviting communities that are filled with people who love the canyon."

ACMNP recruits students to almost every national park in the country. Its goal is to provide Christian community for the people working, living and visiting national parks as well as grow Christian leaders through full-time work, worship and interdenominational ministry.

At the Canyon, teams of 14 to 18 students arrive during the months of May through August and obtain employment. They share the responsibilities of evening worship services on the rim and local campground as well as partaking in ministry at the Grand Canyon Community Church (GCCC).
"I've been very pleased with the young people God has sent our way this year," said Bob Beaver, pastor at GCCC. "They seem really interested in making a positive impact on the Grand Canyon."
Employed as hosts, food servers, front desk personnel and kitchen help, several of the team members are employed by Xanterra South Rim Operations.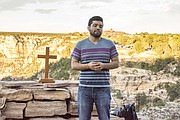 "The ACMNP students have been stellar employees over the years," said Meg Rudge, Xanterra Human Resources Assistant Director. "Some managers even ask in advance of the summer season to have these students fill their open seasonal jobs. They are viewed as reliable and have a strong work ethic … we are very happy about our partnership with ACMNP."
This year's team of 14 students are from across the U.S. and ranged in age is from 18-25 years.

ACMNP leader Joe Estes, works as a food server assistant at Bright Angel Restaurant and is from Joshua Tree, California.

"During my time here I've met people from different backgrounds all across the globe. It's been so wonderful to hear the free exchange of beliefs and open conversation that is sparked because of our work here. It is such a privilege and a joy to be here," he said.
Several other students are working at Delaware North Corporation (DNC) — Jacob Crowley was hired as Food and Beverage Supervisor at Yavapai Lodge and said he loves the atmosphere and culture at the Canyon.
"My managers are constantly trying to create an accommodating work environment for my peers and me," he said. "Some of my co-workers come from all over the country and world which is very cool."
Returning to the Grand Canyon is not unusual for ACMNP students. Nathan Reed initially came to work at the Grand Canyon in 2000. He had an ACMNP roommate who shared his faith with Reed.

"Two years later I joined ACMNP and came back to the canyon to work for a summer. Then, in 2018 I came back with my wife, Cara, to work," Reed said.
He is currently an assistant manager at the El Tovar dining room, and Cara works in retail.

"We hope to stay here for at least five years," Reed said.

More information is available at www.acmnp.com.
SUBMIT FEEDBACK
Click Below to:
More like this story