Bearizona kicks off Wild Wonderland Dec. 6
Originally Published: December 4, 2019 10:24 a.m.
WILLIAMS, Ariz. – Bearizona will kick off its annual Wild Wonderland celebration Dec. 6. During the event, visitors can enter the glowing Fort Bearizona after normal operating hours every Friday, Saturday and Sunday in December to experience this night-time extravaganza.
Wild Wonderland nightly schedule
6 p.m.- Front gates open
6:30 p.m. - Jaguars and otters open presents
First light show takes place, repeating every 30 minutes until 8:30 p.m.
Craft room opens in gift shop
7 p.m. - Story time with Mrs. Claus
7:30 p.m. - Bobcats and raccoons open presents
8 p.m. - Story time with Mrs. Claus
8:15 p.m. - Last admittance
8:30 p.m. - Badgers and foxes open presents
9 p.m. - Park closes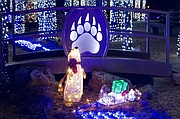 Wild Wonderland is a family-friendly event that immerses guests in the Christmas spirit as they stroll among 400,000 lights illuminating the towering ponderosa pine trees. The lights are synchronized with traditional Christmas music every half hour, providing a dynamic multimedia show of colors and sounds. Additionally, several of the park's resident critters, such as jaguars, otters, bobcats, raccoons, badgers and foxes, will be staying up late to open their early Christmas presents for the viewing pleasuring of park guests.
Guests will also be given the opportunity to spend time with Mrs. Claus during a nightly story time reading in the gift shop, stay warm by the outdoor fire pit where they can purchase s'mores to roast, and enjoy the seasonal libations and holiday treats available for purchase at Canyonlands Restaurant. After story time, kids of all ages can take photos with Mrs. Claus.
"Our Wild Wonderland has always been a wonderful opportunity for families to come together and get into the spirit of the holidays," said owner Sean Casey. "We are proud to continue providing this experience for the thousands of park visitors who have let us become a part of their family traditions."
Tickets for Wild Wonderland are available online at http://www.bearizona.com/ for $13 (using promo code bzwild19) or $20 at the gate. Children 3 and under are free. Admission to this event is a separate charge from general park admission. Wild Wonderland takes place in the Fort Bearizona walk-thru portion of the park only; the drive-thru portion of the park is closed. Wild Wonderland will be closed on Christmas Eve and Christmas Day.
Information provided by Bearizona
More like this story
SUBMIT FEEDBACK
Click Below to: