Williams schools celebrate September Students of the Month
Originally Published: September 25, 2018 2:21 p.m.
WILIAMS, Ariz. — The following students were selected by their teachers as exceptional students for the month of September.
Yaritza Perez-Mata is the kindergarten student of the month. Yaritza is a fantastic student who comes to school every morning with a great attitude and ready to learn! She is a shining example to her classmates and makes outstanding choices every day. She SOARS in everything she does and shows kindness to everyone around her.
The first grade student of the month is Nahim Ramirez Alvarado. Nahim is a great friend to his classmates. He is always willing to help someone. He is SOARS every day in class. I can always count on him to be ready to share. Keep up the great work Nahim!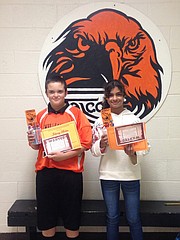 Second Grade student of the month is Khloe Loeslein. Khloe is new to our school this year. She is doing a fantastic job of learning about the school and making new friends. Khloe is always on task and ready to help. She is a Falcon who SOARS every day. Khloe is always ready with an answer or to help her peers solve a problem. Second grade is a great place with students like Khloe.
The third grade student of the month will be Cru Mendez. Cru is new to our school this year and already has shown great leadership qualities. He is always focused on his assignments, and eager to share his knowledge with the rest of the class. He can be counted on to soar in all areas: he is safe, on-task, accountable, respectful and supportive. I could not ask for a nicer student to have in my class, as he is kind to all his peers. What a great new addition to our school. Congratulations Cru!!
The fourth grade student of the month is Jose Gonzalez Mercado. Jose is everything that a teacher might want or expect in the classroom. Always ready, always prepared, always gives 110% on any given learning opportunity, and is involved with every activity, expressing his curiosity, interest, and trusting in his teachers' guidance to take him to the beyond. His actions make him a leader and a role model for others to emulate. Jose is the type of student that every teacher would love to teach 365 days of the year.

Angie Chun is the fifth grade student of the month. Angie is a positive role model for her peers. She comes to school with a smile on her face, a positive attitude and prepared to learn every day. She always tries her best and sets a good example of how to S.O.A.R. as a Falcon for the rest of the class.
Shaleeya Bivens is the sixth grade female student of the month. Shaleeya was nominated for consistently being supportive of her peers and helping others with their work. She is always on task and is a "well rounded student."
Johnny Bolen is the male sixth grade student of the month. Johnny was nominated for being consistently polite and on task and academically striving for the best. They both have great attendance.
SUBMIT FEEDBACK
Click Below to: