Victims identified in ATV crash over 400 foot cliff
Originally Published: September 19, 2018 11:48 a.m.
BLUE RIDGE, Ariz. – Four victims have been identified after an ATV crash Sept. 15 in the Blue Ridge area.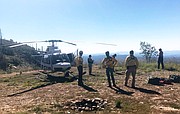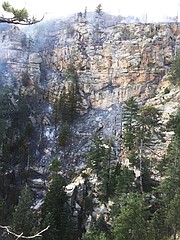 At 4:19 p.m. Coconino County Sheriff's Office received a request for assistance from the U.S. Forests Service to assist with a wildfire along Forest Service Road 300 at mile post 10. While en-route, sheriff deputies learned the fire started after an ATV crashed after going off the road and over the edge of the rim, falling up to 400 feet down the cliff face. Earlier in the day four individuals who had been out riding ATVs had been reported overdue and were last seen in the area of the fire.
Because of dangerous conditions caused by the active wildland fire in the area of the crash and on top of the rim, rescuers were not able to immediately access the site of the crash to identify the victims.

FS Road 300 was closed in both directions from mile post 8 to mile post 11 while fire fighters attempted to contain the fire. Aircraft in the area were restricted to only air craft involved in the fire suppression.
Fire Suppression and recovery efforts continued throughout the evening and into Sept. 17. Once it was deemed safe, rescuers and investigators accessed the crash site to begin recovery and continue the investigation.
On Sept. 19, Reymond V. Martinez, 37, and Enrique Lopez, 38, from Phoenix, Abraham Javier Rodriquez Delgado, 17, from Chandler and Manuel Ladislao Bracamonte, 36, from Glendale were identified as victims of the crash.
The ATV crash and deaths are still under investigation by the Coconino County Sheriff's Office and the Coconino County Public Health Services District Medical Examiner's Office.
Information provided by Coconino County Sheriff's Office
More like this story
SUBMIT FEEDBACK
Click Below to: