Seligman hit hard by I-40 construction
Originally Published: September 18, 2018 3:22 p.m.
SELIGMAN, Ariz. — Some Seligman businesses are seeing a dramatic decline in visitation following repairs by Arizona Department of Transportation (ADOT) to three bridges on Interstate 40.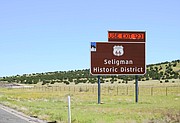 ADOT began construction in June, a peak time for tourists visiting historic towns along I-40 and Route 66. ADOT recognized the project would impact the town and said it would work with the community to ensure the impacts would be as minimal as possible.
"ADOT understands there is never a convenient time to do construction work, but we partner with local businesses and communities to do what we can to support them through a project," said Alvin Stump, district engineer for ADOT's Northwest District in a press release prior to construction.
ADOT representatives said they met with Seligman business owners to listen to concerns and suggestions and to coordinate ways to let travelers know Seligman would remain accessible from I-40.
Detour signs were placed by ADOT along the I-40 corridor to direct travelers to Exit 123 on Seligman's east side while Exit 121 remained closed for the first bridge replacement.
"ADOT has done other public outreach through a brochure and a video explaining the project and noting that visitors will be able to reach Seligman from I-40 throughout the project. Access via Route 66 isn't affected," wrote Ryan Harding, a spokesman for ADOT.
But some Seligman business owners said that hasn't been the case and said the impacts have been financially devastating for them.
"The impacts that I've noticed is that people are coming in and seeing that there's this big closed sign across Seligman," said Brenda Bryant, owner of Westside Lilo's restaurant.
Bryant said she spoke to the state about changing the wording on the sign to say detour instead of closed because she thought it was confusing for anyone exiting for Seligman.
"A lot of people are thinking the town is closed," she said.
Bryant has yet to hear back from ADOT about the wording.
Harding said ADOT has heard concerns from one business related to customer traffic.
"We continue working closely with Seligman businesses as we make much-needed bridge repairs," Harding wrote.
Construction began in June and is scheduled to go through the winter before wrapping up in April 2019.
Compared to last summer, Bryant, who also is a line chef at the restaurant, said she would rarely step away from the line and this year there has been a lot of down time.
"It's had an impact on us for sure," she said.
Westside Lilo's is open for breakfast, lunch and dinner seven days a week from 6 a.m.-9 p.m.
"How do people know what is Exit 123 and what is Exit 121?" Bryant asked. "It should say exit … is closed and exit … for the detour."
Debbie Mejia, owner of the Road Kill Café, the Route 66 General Store, the Historic Route 66 Motel and Historic Route 66 Auto Shop agrees with Bryant — business has been bad since the construction started and the wording on the signs is partially to blame.
"It's horrible. We went to our winter hours already because there is no business," Mejia said. "We have our waitresses that rely on their tips through the summer to get through the winter and I just feel so bad for them."
Meija said the restaurant is currently 73 percent down in sales from the last month and 21 percent down since this time last year. She said the percentage is less in the general store.
Mejia said they are keeping their staff employed but said they have had to cut back hours and changed to winter hours several weeks ago at the restaurant and the store, opening at 8 a.m. and closing at 8 p.m. In the past their summer hours were 7 a.m. – 10 p.m. at the restaurant and 7 a.m. – 9 p.m. at the store and would remain in effect until October.
Mejia said the auto shop and tow service have not been affected.
Another concern Mejia has noticed is the construction crews.
"The guys who are doing the construction and working — they're just doing their job, a lot of people aren't very nice to them," she said.
She said a benefit is that construction crews are staying at the hotel and campground.
"They don't patronize the restaurant because they're worried about somebody being mean to them," she added.
Harding said the project is on schedule to be completed by next spring and stated that ADOT worked with the contractor to modify the phasing of the project so only one summer season would be affected by this work.
"These bridges are between 40 and 50 years old, and the current decks need heavy maintenance. After the project, the new bridge decks will provide a smoother ride into Seligman for decades. So far, crews have removed vegetation, installed falsework on the SR 66 bridge, installed falsework under the railroad bridge and have removed most of the deck of the railroad bridge," he wrote.
According to ADOT, the purpose of the projects is to replace the damaged elements of the bridges, and complete other upgrades to increase the lifespan of the bridges.
The project includes replacing the deck portions of the three bridges, removing and replacing guardrails as needed, reconstructing approximately 40 feet of road on either side of the bridges, repairing embankment damaged by erosion and removing and replacing the approach slabs and joints.
More information or to receive project updates and traffic alerts by email, visit the project web page at https://www.azdot.gov/projects/northwest-district-projects/i-40b-west-seligman-bridges/overview and click on "subscribe for updates."
SUBMIT FEEDBACK
Click Below to:
More like this story