Injured bald eagle released at Dogtown Lake
Originally Published: September 18, 2018 11:44 a.m.
WILLIAMS, Ariz. — A juvenile bald eagle got a new start Sept. 10 after he was released back into the wild at Dogtown Lake following an injury it sustained in
January of this year.
The 2-year-old bird was found injured Jan. 31 on the property of Jan and Paul Osburne in Pitman Valley.
"I saw it go to the pond and go swimming," Paul Osburne said. "He went out and swam across it three times and then went out to our pasture."
Osburne, who has lived in Pitman Valley since the 1970s, has seen numerous bald eagles at his home, knew the eagle's behavior was out of the ordinary and called the Arizona Game and Fish Department (AZGFD).
"I went out there and saw it lying on their property," said Will Lemon, a wildlife officer for AZGFD. "He was still pretty mobile, he could run around."
Lemon captured the bird and contacted bird rehabilitators Jan and Joe Miller of Liberty Wildlife in Phoenix.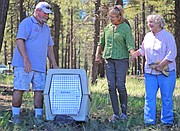 "He came in and had a lot of feather damage, and we didn't know why," Jan Miller said. "His feathers, even the shafts, were destroyed so we couldn't implant any."
Miller believes that lead poisoning contributed to the eagle's injuries.
"Most likely the feather damage happened when he was on the ground," she said. "It was hard to tell, but it looked like a bird that was caught in barbed wire."
Miller said the eagle was tested for lead at their facility and was found to have toxic levels in its system.
"The lead toxicity renders them weak, they get all kinds of issues from lead poisoning," she said.
According Liberty Wildlife data, lead poisoning can cause a bird to appear drunk. It causes swelling in the brain and interferes with vision and nerve function. It also leads to respiratory distress as the lead impairs the ability of red blood cells to carry oxygen through the body. Unchecked, lead poisoning can lead to death.
Miller said once lead was detected in the eagle, the facility began chelation therapy on the bird. Calcium EDTA was injected for five days and then the bird was given five days of rest.
"From that point when we got him healthy enough, he could go outside," she said.
Since the eagle was missing feathers, the facility had to wait for the eagle to molt and grow new feathers before being released.
"He just finished molting in all his new feathers," she said. "He had been in a giant 180-foot flight cage building his strength to get this going."
Lead in the environment
With this eagle, Liberty Wildlife marks 103 bald eagles it has rehabilitated back into the wild. Several of those eagles have suffered from lead poisoning.
"Lead comes from a variety of places," Jan said. "It can be in lead sinkers in lakes, but it also comes from lead ammunition left in gut piles from hunting."
Arizona has no laws banning lead from ammunition, but the AZGFD encourages hunters to use non-lead ammunition when hunting, especially in areas with condors and other raptors.
"Allen Zufelt has been researching the effectiveness of non-lead ammunition compared to lead ammunition and has found no difference," Lemon said. "He believes the performance is actually better than lead."
Lemon said AZGFD gives away free ammunition in areas with condors.
"We do this where condors have been most affected by it," Lemon said. "Also, the guys that want to use lead can give us their gut piles in exchange for entry into a Cabela's raffle."
Anyone interested in the non-lead ammunition program can contact AZGFD Flagstaff at (928) 774-5045. Those wishing to donate and more information about Liberty Wildlife is available at libertywildlife.org.
More like this story
SUBMIT FEEDBACK
Click Below to: