Fiery crash claims three south of Ash Fork
Originally Published: September 11, 2018 2:03 p.m.
PHOENIX — A man from Peach Springs and a family from Crown King were involved in a deadly accident on State Route 89 between Paulden and Ash Fork around 4:45 p.m. Aug. 30.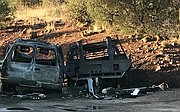 According to the Central Arizona Fire and Medical Authority (CAFMA), three people were killed and five people were transported for injuries after a southbound Ford SUV, driven by Hue Sowash, 47, of Peach Springs, allegedly crossed the center line and struck a northbound Chevy Suburban driven by Ian Castelhano, 29, of Crown King.
The impact caused the Suburban to slide into a disabled pick-up truck parked on the side of the road.
Both the Ford SUV and the Suburban caught fire after the collision, Arizona Department of Public Safety reported.
Upon arrival at the scene, CAFMA found both vehicles engulfed in flames with victims trapped inside.
Sowash, Castelhano and a three-year-old child passenger of the Suburban died at the scene from their injuries. The fire spread to the nearby brush, but was quickly contained, officials reported.
Passing motorists were able to get four other passengers out of the Suburban.
No one was injured in the disabled truck parked on the roadway.
There was a total of nine patients in the three vehicles involved in the accident. Two patients were transported by Guardian Air ambulance to Level 1 trauma centers, three patients were transported by Lifeline Ambulance to Yavapai Regional Medical Center and one patient refused transport to a medical facility.
CAFMA personnel assisted crews from Kaibab Estates Fire Department, Seligman Fire Department, Lifeline Ambulance and DPS, who all were already on scene prior to CAFMA units arrival.
DPS troopers closed traffic in both directions between mileposts 348 and 362 north of Chino Valley. Traffic was turned around at the closure points.
Officials said that SR 89 reopened about 9:48 p.m. that night. Motorists were advised to take an alternate route, such as State Route 89A or Interstate 17 during the closure.
SUBMIT FEEDBACK
Click Below to:
More like this story