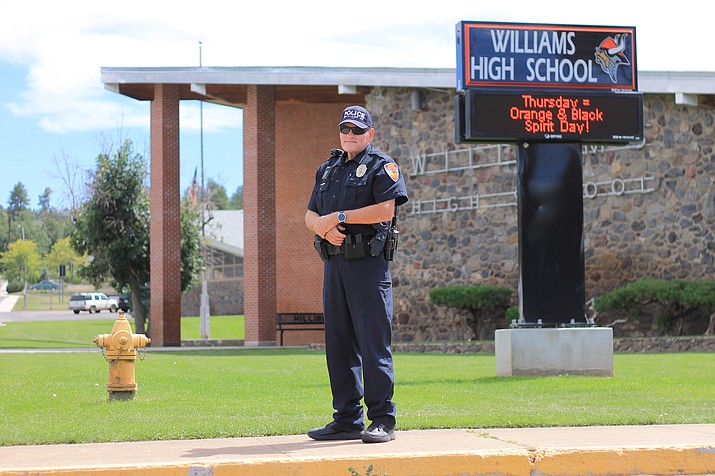 Originally Published: September 4, 2018 2:37 p.m.
Students at Williams High School and Williams Elementary-Middle School will be seeing a familiar face roaming the halls and walking the school grounds this week as Officer Dwaine Simpson steps into a new position as the student resource officer for the school district.
Simpson, who has been a patrol officer with the Williams Police Department for 11 years, accepted the position this fall and recently returned from training that certifies him for the position.
Simpson hit the campuses this week and is already setting about forming relationships with students and teachers within the classrooms, cafeterias, hallways, sports fields and wherever else the school day brings him.
"I've been pretty busy so far," Simpson said.
The officer is the district's first full-time school resource officer since 2013 and is funded partially by Williams Unified School District and partially through Williams Police Department.
Simpson will split his time between Williams High School and Williams Elementary-Middle School.
According to Superintendent Rick Honsinger, the SRO position idea came from Williams Police Chief Herman Nixon.
"(He was trying) to be creative with his personnel and the needs of the school," Honsinger said.
Honsinger said he has already asked Simpson to assist with some smaller issues at the high school, as well as other issues at the middle school.
"I know WEMS plans on using him to help their truancy issue," he said.
Honsinger said the state of Arizona formerly funded many SRO positions for school districts, but because of funding cuts many districts are without the position.
"Having an officer on campus is a deterrent to things that might happen otherwise," he said.
Simpson anticipates his role will focus heavily on public outreach as he works to create a positive image of police among students and coordinate with staff to provide education in areas like bullying, substance abuse and law enforcement.
"I'm not going to be here every day at a set time," he said. "I'm going to switch it around as much as possible."
Simpson said his main purpose is to keep the students and faculty safe. He said his second priority is building relationships with the kids.
"I've known several of the highschoolers since they were in kindergarten and first grade," he said.
Simpson said he enjoys being around students whether its inside the classroom or out in the community.
"I like to goof around, joke around and get different perspectives," Simpson said. "The students have already responded really well, they'll come up and fist bump and that's kind of cool."
Simpson said another duty will be ensuring the safety of the perimeter of the school.
"It's rare, but it does happen," he said about school threats. "I'm watching who is outside the schools."
Although Simpson is a certified Arizona Peace Officer, the department sent him to be trained as a certified Student Resource Officer.
The week-long course provides tools for officers to build positive relationships with students and staff. It emphasizes mentoring students, guest speaking and law enforcement inside and outside a school environment. It also included instruction of how the teen brain processes and how to de-escalate situations.
"It covered how to work with kids, teach classes and build relationships," Simpson said. "It was a lot of stuff I already knew but it was a good refresher, good training."
In addition to patrolling and responding to situations, Simpson said he plans to teach some law enforcement education courses at the district.
"Times are changing," Simpsons said. "There is a lot going on in our schools."
Simpson said he was surprised to see several highly skilled officers taking the Student Resource Officer course with him.
"There were three guys who switched from SWAT to this," he said. "There were also several who went from GITEM (gang task force) to SRO.
Simpson said he will also be watching for tobacco use among the students whether in the form of vaping products, chewing tobacco, cigarettes or other methods.

He said he also hopes to spend time with the students at extracurricular events too.
"I'll try to get the kids to know that we are here for them," Simpson said. "It's what I've done since working here."
Honsinger said he hopes parents can view Simpson presence in the schools as added security for the district.
"I hope the parents can feel that the schools are a bit safer because of having an officer rotating campuses," he said.
More like this story