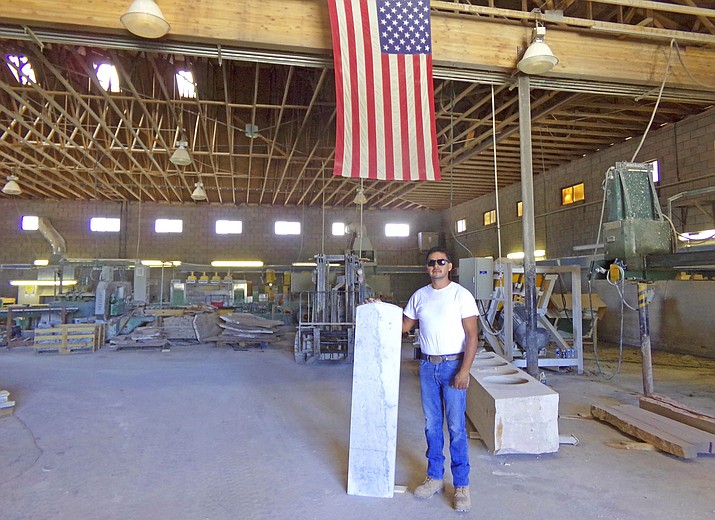 Originally Published: September 4, 2018 11:39 a.m.
ASH FORK, Ariz. — Stoneworld in Ash Fork was recently commissioned to cut 500 marble headstones to be used by the U.S. military.
According to Juan Carranza, Stoneworld plant manager, CEO and R & J Crafts owner, a government representative came into the Scottsdale Stoneworld office and asked if Stoneworld could help cut military headstones. Carrranza said the government shared that they have had a backlog of orders for headstones and they needed 500 and said they had Alabama marble for the project. A deal was made.
"So we (made) ourselves disposed to them, to help them — to make it happen," Carranza said.
All of the headstones had to be the same and after the government found out about Arizona marble 225 of the headstones were cut from it.
The marble was mined in a mine owned by Stoneworld in Tucson.
"It is a pretty high-quality marble. It's a 200-year-old mine...they gave us some good-looking block to match what they used from Alabama," Carranza said.
Carranza said his masons cut and shaped the rock to the exact measurements and specifications given to them by the government.
"We cut it by the drawings exactly," he said.
The headstones measured 4 inches thick, 14 inches wide and 42 inches high.
"We did a radius cut on the top, then basically we polished both of the faces and around the edges," Carranza said. "Then it was ready to be engraved in Florida."
When completed they were shipped to Florida for engraving. Carranza said he expects more orders in the future.
About Stoneworld, Inc. and R & J Crafts LLC
Stoneworld and R & J Crafts have a wide variety of tiles, counter tops, sinks, indoor décor, stone patio samples and stone building materials for small and large projects. The Ash Fork Stoneworld is one of several Stoneworld's branches. It has been in operation since 1999 and has eight employees. Carrranza has been employed at Stoneworld for 16 years.
Williams News editor Loretta Yerian contributed to this report.