Part III of Fostering a fire-adapted forest: In fire's aftermath, a renewal
Originally Published: October 30, 2018 9:45 a.m.
WILLIAMS, Ariz. — It's a strange concept – too many trees in a forest, especially a national forest or wilderness area that is managed to be healthy and vibrant and full of birds, wildlife and all the things a visitor might expect.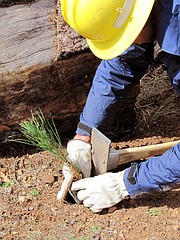 But too many trees is indeed a problem, even on public lands like the Kaibab and Coconino National Forests. Competition for resources fierce, but overcrowding can also exacerbate infestations of harmful insects like bark beetles and provide fast, hot-burning fuels that can decimate large swaths of forest. That's why projects like thinning, logging and pile burns are so important, according to Jackie Banks, public information officer for Kaibab National Forest.
"It's those really high-severity wildfires where treatment hasn't occurred — you haven't had any sort of timber treatments or fire moving through on a regular basis — that you end up with this big accumulation of ground fuels, you've got too many trees, and it ends up burning at a really high intensity," Banks said. "You end up with these really severe effects, and that's what leads to those big flooding events."
Historically, the incredibly dense stands of Ponderosa pines sweeping the Kaibab Plateau today were far more sparse — and as a result, very healthy. In a 2014 report, Kaibab National Forest concluded that the open, park-like stands of the past promoted a greater diversity of plant and wildlife as well as fire resilience. Under today's circumstances, the report says, accumulations of fuels and woody debris leads to higher-intensity wildfires which kill a lot of trees, even the much larger, older ones. Because those trees take longer to replace, which in turn delays the time it will take to return the forest to desired conditions.
According to Kaibab and Coconino National Forest soil and watershed program manager Kit Macdonald, the forest service's historical mindset of saving all the trees was not necessarily the best one for maintaining forest health.
"Our fire personnel are exceptionally skilled at suppressing fires historically," he said. "Before the 1960s, we would go out and suppress every fire … now we've come to realize that probably wasn't the right thing to do because as a result of that, forest in-growth is occurring."
Forest in-growth simply means that trees were growing and reproducing without any natural inhibitors. Historically, stands were limited to only a few trees per acre with a lot of grasses and shrubs underneath. The space between allowed fires to burn through at a lower intensity, which the larger trees and a few smaller ones could withstand.
Now, Macdonald said, fires have so much fuel that they escalate quickly.
"When fire gets in there, it heads to the crown and it's off to the races," he said.
Macdonald said the goal now is to re-prepare the forest for fire in its natural range. That means removing smaller trees and even pruning branches off of the larger ones — the branches serve as ladder fuels, allowing fire to climb higher into the crown with more devastating consequences. The branches are piled and allowed to dry for several months before they are hand-torched by fire personnel, effectively eliminating some of the danger.
So why do smaller trees succumb to flames, but larger trees of the same variety don't?
Ponderosa pines have thick, plated bark, which accumulates as they age. This allows them to weather low to moderate intensity fires and continue to seed and grow. Macdonald said younger trees, called blackjack, haven't yet acquired this thick plating, and most of them burn up in a moderate fire. Not only does this reduce density, but also provides some nutrients and continuity along the forest floor as they fall and naturally decompose.
Many of the larger trees have been blackened over the years from fire moving through, but most are well-prepared to survive non-crown fires.
"Typically, fire used to move through the area every two to 10 years," Banks said. "When you look at the tree cookie (a cross-section of the tree's trunk revealing the rings), you can see where a fire has moved through every few years."
Ponderosa pines, however, aren't the only trees native to northern Arizona forests. Bright, white-barked aspens dot the scenery in small stands. They're often one of the first plants to return after a fire has cleaned the landscape.
"Vegetation communities can change entirely," Macdonald said. "If the conifers burn off, then we may have an aspen stand from then on.
And often, he said, that's a good thing. Fostering a large, robust stand of aspen trees offers many benefits as well, such as a diverse community of birds that prefer to nest in deciduous trees rather than conifers. Aspens also provide a more diverse food source for animals that feast on seeds.
"Aspens are real hubs of biodiversity, and we're losing aspens at such a great rate that frequently we're doing treatments out on the landscape to try to increase or just sustain the number of aspens that we have," Banks said.
Aspens can also serve as a soil rehabilitator, as it sheds deciduous leaves that decompose and integrate back into the soil year after year.
In other cases, undesirable species can move in, such as New Mexico locust, which Macdonald said is native to the area, but doesn't really offer any value in terms of wildlife habitat or other benefits. Which species move in or come back depends on a lot of external factors, such as precipitation patterns.
As the forest recovers, the forest service, in conjunction with other agencies, work on long-term rehabilitation in various ways. Roads often need work, especially if they were affected by post-fire flooding. Drain pipes may need to be removed or replaced, and often fences will need to be rebuilt.
SUBMIT FEEDBACK
Click Below to:
More like this story