Speeders take to the rails enroute to Grand Canyon
Originally Published: October 23, 2018 12:55 p.m.
WILLIAMS, Ariz. — Twenty-five privately owned railroad motorcars, known as Speeders, chugged out of the Williams Train Depot Oct. 15 on their way to the Grand Canyon.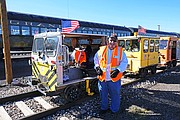 It took the speeders approximately six and a half hours to make it to the Canyon, with stops for a photoshoot and to refill gas tanks. Once they arrived at the park, they stayed two nights, enjoying the sights and sounds of the natural wonder before returning to Williams Oct. 17.
"It was wonderful," said Joe Schnyder, event coordinator for NARCOA (North American Rail Car Operators Association). "It was cold. It snowed up at the Canyon but everybody loved it. As lousy as the weather was we bundled up and went ahead with what we were doing."
Schnyder said once they arrived most of the group hiked into the Canyon and the snow cleared up after hiking down around 1,000 feet.
"It was great, everyone had a wonderful time," he said.
NARCOA is an affiliate of Motorcar Operators West, a non-profit group dedicated to the preservation and the safe, legal operation of railroad equipment historically used for maintenance on railways. NARCOA has stopped in Williams every other year since 2002. Schnyder said they hope to make it an annual tradition.
"There's so much of a demand for it, I had so many people ask to come on this run," he said. "I am limited as to space because of the amount of rooms I can get."
The cars are fully restored M14 and M19 models built by Fairmont Railway Motors.
"They are 16 or 20 horse power depending on the size of the car gasoline engines. They're old Onan generator motors," Schnyder said. "There's quite a large market for it."
The group coordinates the use of the Grand Canyon Railway track with Xanterra, which owns and operates the daily passenger train to the Canyon. Schnyder said the Speeders left the station immediately after the passenger train, leaving enough distance and time for both to use the track at the same time.
The group left Williams Oct. 17 and traveled to Maricopa Live Steamers Railroad Park before heading to Hayden, Arizona, where they planned to make a run on the Copper Basin Railway.
SUBMIT FEEDBACK
Click Below to:
More like this story