Eat, drink and be scary: Halloween events galore in Williams
Originally Published: October 23, 2018 11:11 a.m.
WILLIAMS, Ariz. — Halloween is upon us and no stone will be left unturned as Williams goes all out for community chills and thrills.
So where shall we begin our search for scares this year?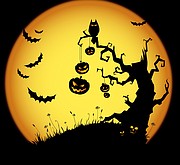 Williams Elementary-Middle School Fall Carnival: Sponsored by the third grade class, children of all ages can enjoy costume contests, a haunted house, cake walk, and treats. The carnival will take place at 5 p.m. Thursday, Oct. 25 from 5 to 7 p.m. at 601 N. 7th Street. Tickets are 2/$1. Cash only.
Heritage Elementary Harvest Fest: The festival is open to the public with tickets for only 25 cents each. There will be fun games like Cornhole, Ping Pong Toss and Pumpkin Bowling. There will also be a snack bar serving hot dogs, nachos and more. Heritage Elementary School is having its Harvest Fest Friday Oct. 26 from 5 to 7 p.m. at 790 E. Rodeo Road in Williams.
Maine Consolidated School Halloween Party: Children can enjoy carnival games, a costume contest, treat walk and a trunk/truck bed decorating contest. There will be hot dogs, drinks and chips available. All member of the Parks/Bellemont/Williams community are invited to attend on Saturday Oct. 27 from 4 to 7 p.m. at 10 N. Spring Valley Road, Parks.
Community frights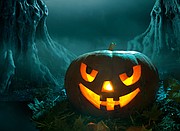 Parks in the Pines General Store Pumpkin Patch: The store is hosting games with prizes from 4 to 6 p.m. Oct. 26 and 27. The store is located at 12963 Old Route 66, Parks.
Williams Rotary Club Harvest Party and Auction: The club is hosting a Halloween party with a costume contest as participants bid on items to support scholarships at Williams High School and activities for Williams youth. The event is from 5 to 9 p.m. Saturday, Oct. 27 at Miss Kitty's Restaurant, 642 East Route 66.
Williams Community Methodist Church Oct. 31 from 5 to 7:30 p.m.: There will be trunk- or- treating in the parking lot - hamburgers, hot dogs, hot cocoa, games, and a cake walk. All are welcome to this free event
Williams Family Harvest Church is hosting its annual fall harvest fest Oct. 31 at 6 p.m. There will be fun for all ages, including games, food, candy and a bounce house. Everyone is welcome.
Howly Growly Owly Festival: Bearizona is offering spooky fun for all ages, including a raptor show, bison entertainment and a creepy Scareizona haunted house. The event takes place Friday, Saturday and Sunday through Oct. 28 at Bearizona. Cost is $10 for children and $20 for adults 13 and up.
Grand Canyon Railway's Pumpkin Patch Train: the event runs every Saturday and Sunday through October at 11 a.m, 1 p.m. and 3 p.m. The train ride and a pumpkin are included in the ticket price. Meet at the Williams Depot. Cost is $22 for children and $27 for adults.
To the back of beyond
Hottest Party in Town: Ponderosa Fire Department is hosting a children's Halloween party from 4 - 7 p.m. Oct. 31 at their station in Bellemont.
Halloween Harvest: Flagstaff's Heritage Square and downtown area will host a family-friendly trick-or-treat trail, complete with crafts, games, food, candy and more Oct. 31. The event takes place from 4 to 7 p.m. at Heritage Square. The event is free and open to the community.
Haunted Flagstaff Walking Tour: Did you know that Flagstaff is one of Arizona's most haunted areas? Tours take place Tuesdays through Sundays from 8-10 p.m. at the Flagstaff Railroad Station. Cost is $10 for adults and $7 for students. Reservations can be made by calling (928) 814-7064.
Don't Fall on Your Aspen 5k: Stay ahead of the Mogollon Monster as you run a 5k through the beautiful aspens at the Nordic Ski Center in Flagstaff. This will be a twilight run so don't forget a headlamp! Personal illumination is required for the race. Make sure to stick around after the race to hang around a campfire swapping stories of your run-in with Mogey. Race begins at 6 p.m. Registration is at https://www.runflagstaff.com/dont-fall-on-your-aspen
Adult spookiness
Canyon Club Halloween Party: Drink specials, food and a costume contest Oct. 26. Prizes awarded at 11 p.m. Canyon Club is located at 132 W. Route 66 in Williams.
Grand Canyon Brewery's Halloween Party: There will be live music from 8 p.m. until midnight Oct. 27 by Pure Prophet. Prizes will be awarded for best costumes. There will also be some tricks and treats from the brewers created just for the Halloween celebration. The Brewery is located at 301 N. 7th St.
Sultana Halloween Bash: Costume contests and live DJ from 9 p.m. to midnight Oct. 27 at the World Famous Sultana at 301 W. Route 66.
SUBMIT FEEDBACK
Click Below to:
More like this story