4th ranked Lady Vikes head to regional tournament
Originally Published: October 23, 2018 12:02 p.m.
WILLIAMS, Ariz. — The Lady Vikes ended the regular season in style as they cruised to a 3-0 (25-15, 25-21, 25-18) win over the Grand Canyon Phantoms Oct. 18.
The win moved the Vikings to 10-2 in the 1A Central Region and 13-2 in the 1A Conference. The Vikings are ranked fourth in the state.
The team headed to the 1A Central region tournament this week as they faced BASIS — Flagstaff at home Oct. 23 and then will move on to Ash Fork Oct. 26. They play at 10 a.m., and are hoping to make the championship game at 2 p.m.
The top 16 teams will enter the 1A State tournament. The winner of the regional tournament automatically qualifies. Win or lose, fourth-ranked Williams will be in the state tournament.
"I'm hoping to be in the regional championship game at 2 p.m. against Mogollon," head coach Connie Stevens said.
Stevens said the Lady Vikes are playing their best ball of the year as they head into the post season.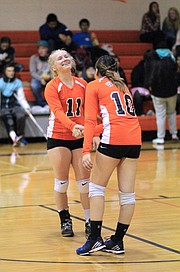 "I'm very proud of my girls, we are playing good ball," she said.
The Vikings main challenger this year has been Mogollon, who the team has lost to twice.
"They are an excellent team," Stevens said. "Mogollon is just a wall, you can't give them a free ball or you will eat it. You will pay the price."
Stevens said the Vikings have had to work around the fact that the team doesn't have a lot of height.
"I have a very short team, so we had to concentrate on all serves being in and we had to change up our offense - where we moved it around and kept it away from the tall girls," she said.
Stevens said she has worked with the girls to have an explosive offense.
"We can't give anybody free balls, we have to try to score every time we hit," she said.
Stevens said Mogollon is a huge challenge, but believes the Vikings have the ability to beat the team.
"I believe we can take them, we will have to have our best game," she said.
Stevens attributes the Vikings success this year to club ball many of the girls have participated in over the past three years.
"They have played three years in club and a total of six years together," she said. "That's why we gel together so well."
The Vikings are behind Mogollon, North Phoenix Prep and St. David in the state rankings.
The state tournament begins Nov. 2 at Betty H. Fairfax High School in Laveen. The schedule is TBA.
SUBMIT FEEDBACK
Click Below to: