Kerrell and Loynd display exotic wood art at The Gallery
Originally Published: October 16, 2018 12:47 p.m.
WILLIAMS, Ariz. — Richard Kerrell and Sarah Loynd met at a woodworking class in 2005. Since then they've created custom wooden furniture, decorative pieces, functional art and jewelry.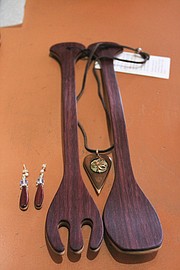 "We like to use fancier woods, more exotic woods like curly woods and woods with a lot of figure to it," Kerrell said as he described a piece on display now at The Gallery in downtown Williams.
"We used to work for a guitar company years ago in San Diego and we were able to buy some of their cut-off wood that wasn't big enough for a guitar body or necks … then we started building boxes and various things. So all of our items are actually made out of recycled woods," he said.
Kerrell uses koa wood, a Hawaiian hardwood, in some of his pieces. He also likes to work with mahogany and curly maple wood, among others.
Kerrell has been creating handcrafted works of art using exotic wood for more than 30 years. As he continues to experiment with different woods and techniques, he plans to incorporate other material such as metals, glass, stone and resins.
Some other products he makes include custom furniture like tables and chairs, cutting boards, kitchen utensils and more.
Once Kerrell has decided on a pattern and cuts the wood to shape, Loynd takes cut pieces and fashions pendants and earrings.
"It's all made out of the cut-offs of the insides of these (wood pieces)," Kerrell said.
"With his work he thinks about it and then designs it. I look at the scrape and it designs itself," Loynd said. "I'm always using pieces that are cut off and think, 'what could this be?' I don't plan it, it just happens."
Kerrell and Loynd both enjoy the process of making an item, but agreed their favorite part is seeing the final product.
"Taking a raw blank of wood and turning it into something special, just to look at the wood … I take it, plane it down and make a box and see what it came from and what it ended as — where it starts and where it ends" Kerrel said.
"I like when it's done admiring what I've created — seeing the end result," Loynd said.

The couple work full-time at woodworking. Their work has been displayed in galleries in California and Arizona. It is currently on display and for sale at The Gallery, 145 W. Route 66 in Williams and in Prescott.

"We mostly sell through galleries," Kerrell said.

Kerrell takes custom orders including furniture, cabinets and accent pieces. More information or to place an order is available at www.rmkdesigns.com or at (760) 505-0502. Loynd also takes orders and can be reached at (928) 592-2376.
More like this story
SUBMIT FEEDBACK
Click Below to: