Search underway for armed robber
Originally Published: October 9, 2018 1:25 p.m.
WILLIAMS, Ariz. — Williams Police Department is asking for the public's help in identifying an individual who robbed and assaulted an employee at the Mustang Gas Station on East Route 66 in Williams Oct. 6.
The employee called police around 9:30 p.m. and said the station had been robbed and he had been assaulted.
Police recovered video of the incident which showed a person dressed in a black hoodie, black pants, black shoes and black gloves. The person's face was covered by a red devil's mask. Based on the interview with the employee, police determined the suspect is male.
"We have a couple leads we are looking into now," said Williams Police Chief Herman Nixon. "But we have nothing concrete at this point."
According to owner Amir Saya, the suspect stole several thousand dollars in cash along with other items.
"It was primarily cash, but we are trying to calculate that all together," Saya said. "It was a significant amount."
Saya said his family has owned both the Mustang Gas Station and the Route 66 gas station on First Street in Williams for over 14 years. He said this is the first robbery of either gas station.
"We are definitely frustrated, but relieve that our employee wasn't seriously hurt," Saya said. "We're frustrated because we're trying to do business in town and for that to happen is just a huge blow."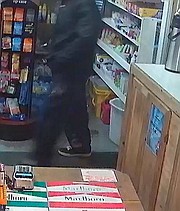 Saya went on to say he is concerned for his employee's safety and that of his parents, who also work in the stores.
Nixon said the suspect threatened the employee with a 10-inch knife as he robbed the store. He then assaulted the employee before exiting the store.
"The suspect sucker-punched the clerk and knocked him unconscious," Nixon said.
Nixon said the videos revealed a lot of information inside the store, but there were no exterior video cameras.
"We are checking with other businesses in the area and trying to obtain their video to see in anything came up," he said. "We don't know if he had a vehicle waiting for him or was on foot."
Saya said after the assault, the employee was unconscious for several minutes before calling police.
"If he saw anything, it was mostly stars," Saya said. "He (the suspect) turned off the lights and closed all the doors so the cameras that were attacked at those points just went blind."
Nixon said there have been no other armed robberies like this incident in recent weeks. He said there was a burglary of gas station on the west side of town, but an arrest has been made for that incident.
Nixon said officer are following up on several leads given to the police department for the robbery at the Mustang station. He said anyone with any information about the crime is asked to call the tip line at (928)635-5992. Those who want to report a crime while remaining anonymous can also call Silent Witness at (928) 774-6111 or (877) 29-CRIME;
There is a $250 award for arrest and conviction of the robber.
SUBMIT FEEDBACK
Click Below to:
More like this story