Burning tortillas, bees keep Williams Fire busy
Originally Published: October 9, 2018 2:33 p.m.
WILLIAMS, Ariz. — Williams Volunteer Fire Department had a busy fall, with numerous calls for assistance on traffic accidents, medical situations and fires.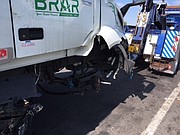 In August, firefighters responded, along with LifeLine Ambulance, to several medical calls in the city, including an incident where an elderly man fell on the sidewalk, a female passed out at church, a female having difficulty breathing and a resident fell in his home.
The department also responded to a medical on Garland Prairie Road and another incident on SR 64 and FS Road 71.
Firefighters also responded to multiple car accidents on I-40 including a car versus RV accident at milepost 167 with minor injuries, a triple fatality accident at milepost 153, a semi truck verses guardrail with a diesel leak at milepost 158, a roll-over heavy equipment trailer at milepost 171, a fatal motorcycle accident at milepost 158 and several calls that were cancelled enroute.
Also in August, firefighters took calls for reported smoke at Holiday Inn, a car fire on Airport Road, a swarm of bees on North Grand Canyon Boulevard, a false alarm at Ramada Inn, a hazardous sewage spill from an RV on West Route 66, a carbon monoxide alarm at Ramada Inn, and extrication of a deceased 350 pound male from a semi truck at North Grand Canyon Blvd.
In September, firefighters responded to responded to a car verses semi truck with no injuries at milepost 157, and three calls that were cancelled enroute. These calls included a reported truck fire, a medical emergency and a traffic accident.
Firefighters assisted LifeLine ambulance with an elderly female who had fallen on Davenport Lake Road., a wildland fire at Dogtown Lake sparked from a chainsaw, a fire alarm at Ramada Inn, a residential smoke report (tortillas burning on the stove), an unintentional yard fire on Quarterhorse Road, a stove fire at a resident (kitchen utensil on fire in oven), and a fuel spill from a motorcycle.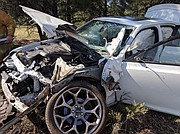 Training and administration
Firefighters conducted training using the K-12 heavy-duty rotary saw for entry, and use of the infrared camera and pumping. They also conducted search and rescue training.
In early August, the fire department assisted with a Firewise training at Pine Meadow Estates. The department also conducted a pre-fire of the subdivision and placed a hydrant flag on their only hydrant.
In September, Captain Ryan Kopicky and firefighter Thibault attended a hazmat course in Phoenix and brought home 15 metal doors for training opportunities.
The department helped the city repair a broken halyard on the American Legion flag pole.
The Apparatus Committee is developing specs for the next water tender, and the department met with a grant writer to submit a request for a rescue pumper
More like this story
SUBMIT FEEDBACK
Click Below to: