Finding fall in northern Arizona
Originally Published: October 3, 2018 11:17 a.m.
WILLIAMS, Ariz. — Whether you're looking for a romantic first date, a casual family hike or some frame-worthy photos, the beautiful-but-fleeting colors of the Kaibab and Coconino National Forests won't disappoint.
Visitors looking to take in the colorful changing of the leaves have a variety of options on both the Coconino and Kaibab National Forests. Several Forest Service roads are well-graded for those who want to drive to their destinations and trails of varying length and difficulty are available to more intrepid travelers. Dispersed camping under an aspen stand is also a one-of-a-kind experience for those looking to get a little closer to the forest.
North Kaibab Ranger District
Leaves have already begun to turn a golden yellow on the North Kaibab Ranger District, thanks to whispering aspens clustered among the evergreens. The bright oranges and golds offered by the aspens make the North Kaibab Ranger District the most vibrant on the Kaibab.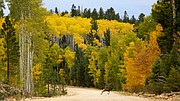 Peak viewing time on the North Kaibab is already in full swing – weather conditions this season have cropped an already short autumn season even shorter. Visitors can expect prime viewing to last until around the second week of October.
Driving routes: Forest Roads 22, 206, 212, 214, 223, 264, 270, 271, 294, 461, 462, 610, 611, 612, 641, 758, 759, 760 and AZ Highway 67 are all well-graded and have beautiful views of fall on the forest. Maps can be obtained from any Kaibab National Forest ranger station in Williams, Tusayan or Fredonia. Forest officials remind visitors who plan to travel Forest Service roads to come prepared with a full gas tank and a map, as GPS devices sometimes do not work in the region.
Hiking trails: Good spots to view fall colors right now include areas in or around East Rim, DeMotte, Rainbow Rim, Tater Canyon, Dry Park Meadow, Oquer Country, Bear Dip, Snow Play, Three Lakes, Mile-and-a-Half and Lookout Canyon.  Rainbow Rim Trail, which is classified as easy to intermediate, offers spectacular views of the Grand Canyon's North Rim as well as fall colors.
Camping opportunities: Jacob Lake Campground, DeMotte Campground and Indian Hollow Campground are located on the North Kaibab. Indian Hollow is a dispersed camping site and is open year-round without reservations, however there is no water or restrooms on-site. DeMotte and Jacob Lake campgrounds are maintained campgrounds that can accommodate tents, vehicles and small motor homes. Both are open through around mid-October and half of the sites are available on a first-come, first-served basis, with the other half are available through reservations. Reservations can be made through the Recreation.gov website or via telephone at 1-877-444-6777. Fees for both campgrounds are $20 per site. Water and vault toilets are available, but there are no utility hookups.
Things to know: There are no concessions or water along the Rainbow Rim Trail. You may experience smoke from the Cat Fire, which is burning in the Saddle Mountain Wilderness.
South Kaibab: Tusayan Ranger Distict
Lower in elevation than the North Kaibab, what Tusayan lacks in flashiness, it makes up for in accessibility. Hiking trails in and around the community offer visitors a quiet stroll through the pines with pops of flaming red and oranges from the area's oak trees. The town is also the starting point for the Greenway Trail, a paved hiking and biking path that connects to Grand Canyon National Park.
Although it is not quite peak viewing time, the window is quickly approaching. Colors are most vibrant from around the second week in October through the end of the month.
Driving routes: Forest Roads 302, 310, 307, 328, 328A and 688 are wide and well-graded. Forest officials suggest obtaining a map at the Tusayan ranger station as cell phone and GPS coverage is unreliable.
Hiking trails: The portion of the Arizona Trail that begins at the Grandview Lookout Tower typically offers nice views of fall colors. The Tusayan Bike Trail #4 has many oak trees that turn a vibrant orange-red.
Camping opportunities: Ten X Campground is open through October depending on weather conditions. Fees are $10 per vehicle, per night. Water and restrooms are available.
Things to know: Dining and hotel options are available in Tusayan. Those who want to visit Grand Canyon National Park from Tusayan via the Greenway Trail or the shuttle system can purchase park passes in at the Chamber of Commerce and Visitor's Center and leave personal vehicles parked in town or at the campsites.
Williams Ranger District
The Williams Ranger District is surrounded by color, from Bill Williams Mountain to Kendrick Peak. The trees are nearing peak viewing time, which last from the first week of October through the end of the month.
Driving routes: Popular routes for viewing fall colors include Forest Road 111 to the top of Bill Williams Mountain, County Road 73 and Forest Roads 105, 110, 140 and 354. In the Parks area, a beautiful drive to see outstanding fall colors is Forest Road 141 north through Spring Valley to Forest Road 144 and then turn right onto Forest Road 90 north of Kendrick Mountain Wilderness for stunning views of the San Francisco Peaks and Kendrick Mountain.
Hiking routes: The Bill Williams Mountain Trail and the Sycamore Rim Trail often offer great views of changing fall colors. During peak periods each year, Kendrick Mountain is often alight with fall colors, so a hike on any of the trails in the area will offer great opportunities for viewing and photographing the changing leaves. You'll also have far-ranging views to include the San Francisco Peaks, Sitgreaves Mountain and Bill Williams Mountain to add to the fall color experience!
Camping opportunities: Dogtown Lake Campground, White Horse Lake campground and Kaibab Lake Campground are all located near Williams. The campgrounds are open through October, weather permitting, and fees are $24 to $20 depending on the site selected. Reservations can be made through the Recreation.gov website or via telephone at 1-877-444-6777.
Things to know: Tents and motor homes can be accommodated. Utility hookups are available. There are multiple dining and lodging options in nearby Williams.
Coconino National Forest
Coconino National Forest also offers many hikes and picnicking locations across its three ranger districts to take in the cool autumn air and blazing aspen trees. Hart Prairie and Lockett Meadow are popular viewing spots in the Flagstaff Ranger District, although Lockett Meadow may become congested as the season progresses.
Because of temperature variations, fall colors on the Red Rock Ranger District around Sedona have a much longer season. Oak Creek Canyon and West Fork Oak Creek are very popular, but parking is limited, so forest officials suggest arriving before 9 a.m.
More information about viewing fall foliage on the Coconino National Forest is available at https://www.fs.usda.gov/detail/coconino/landmanagement/resourcemanagement/ by clicking on "Fall Colors."
SUBMIT FEEDBACK
Click Below to: