Kadampa World Peace Temple will seat 1,000 visitors
Originally Published: October 2, 2018 4:13 p.m.
WILLIAMS, Ariz. — The foundation has been laid and construction has begun on the Kadampa World Peace Temple located 9.5 miles east of Williams.
The temple is being built by the International Kadampa Retreat Center (IKRC) Grand Canyon, which has been part of the William community since July 2017.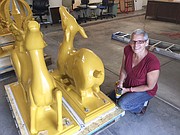 "The temple foundation with underground heating has been completed and the first level of masonry walls are currently in progress. Improvements to the parking lot are under way — this consists of creating a tree lined walk way with dark sky lighting," said Kelsang Lingpur, IKRC Temple project manager for IKRC. "Kadampa artists have arrived on site to begin painting the temple ornaments. The steel erection will begin mid-October for the upper tiers of the five-tiered roof. The opening of the temple is currently projected for fall 2019."
The temple will be adorned with symbols of world peace and contain an eight-foot Buddha statue among other statues and artwork, all gilded and painted by international Kadampa artists. It will seat nearly 1,000 people and host many programs throughout the year to appeal to a range of guests. IKRC said the temple is open to the public and invites residents and visitors to enjoy a peaceful atmosphere away from the distractions of everyday life, surrounded by an environment of natural beauty.
"Whether looking for a day visit, an introduction to Buddhist meditation or an in-depth course or retreat, all guests will find an enjoyable and meaningful experience," the retreat wrote in a press release earlier this year.
The IKRC Grand Canyon is part of the New Kadampa Tradition (NKT), a global organization founded by the internationally renowned Buddhist Master and author, Geshe Kelsang Gyatso Rinpoche, who pioneered the introduction of modern Buddhism into contemporary society.
The project team includes JWA Architects and BEC Construction, both located in Flagstaff. The temple is scheduled to open in Fall 2019, it will be the fifth Kadampa World Peace Temple organized by the New Kadampa Tradition.
IKRC offers weekly meditation classes and a rotation of courses and retreats throughout the year. More information about IKRC is available at www.meditationinnorthernarizona.com.
SUBMIT FEEDBACK
Click Below to:
More like this story