10 things to do at the Williams Public Library
Originally Published: October 2, 2018 3:18 p.m.
WILLIAMS, Ariz. — Many people still think a public library is just a place to go check-out books, but Williams Public Library not only has a large collection of books to choose from, but it has dozens of other resources for learning, research and entertainment available for free.
The Williams Public Library is connected to the Flagstaff Public Library as part of the Coconino County library system. Residents of Williams can not only obtain a Williams Public Library card, but also a Flagstaff Public Library card as residents of Coconino County.
People who haven't visited the Williams Public Library may be surprised at what it has to offer. Here's just a sampling of what you can do there:
1. Borrow the latest DVD
Over 2,500 DVDs are available at the Williams library. Patrons can check out several at one time.
"Almost all of our DVDs are donated or purchased from yard sales," said librarian Andrea Dunn.
2. Checkout a new release book
New releases are abundantly available without a wait list. Dunn said the library has several best sellers and she always tries to keep a large selection available.
"I stay on top of that, people really appreciate it," she said. "We try to branch off and get some new authors that people in the valley don't seem to get."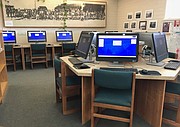 3. Use a computer or access WiFi
If you need to hop online to check your email, apply for jobs, or check out social media then you're in luck. The library has 18 free computers and access to a printer for a small fee.
4. Download an eBook
If a requested book isn't available, residents and non-residents can download a book on their tablets or e-readers for up to three weeks.
"When people come in who aren't residents and can't get a library card, I suggest they get a card to get e-books, that way they can read a book," said assistant librarian Sherry Sleeper. "You can put a hold on one too."
5. Do research
A library card gives residents access to research data bases, classical literature and state systems.
6. Read newspapers like The New York Times
Several newspapers are available online with a library card number. These include current and past editions of some of the papers.
7. Find graphic novels and comics online
Library Edition brings unlimited access to thousands of digital graphic novels and comics to library patrons on any web-connected device. Patrons can view titles through a web browser on any computer, tablet or smartphone with an internet connection.
8. Read hundreds of magazines without a subscription
Check out magazines through the library by logging into your library account, then download them onto your device to read anytime, online or offline.
9. Find historical documents
The Flagstaff library has documents of property surveys that resulted from the strong interest among the Flagstaff community that emerged in the 1970s to document and preserve historical structures around the town. Several historic groups worked toward determining which properties in a given survey area would qualify for listing on the National Register of Historic Places.
10. Purchase books
The library accepts donations of books and DVDs. Many of those are put right into the library system, others are placed on the library book sale shelf for 50 cents or less.
"We love donations," Dunn said. "If we get duplicates or something we can't use, we can sell them. There's always a gem in there. A lot of our book sale money goes to the Historic Photo Project."
More like this story
SUBMIT FEEDBACK
Click Below to: