Williams police implement weapon mounted cameras
Originally Published: November 20, 2018 11:34 a.m.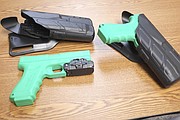 WILLIAMS, Ariz. —Officers on the Williams Police Department will now have cameras mounted on their pistols full-time.
In an act of transparency and cutting edge technology, WPD and Viridian Weapon Technologies announced that the department would implement the FACT Duty™ Weapon-Mounted Camera (WMC™) at a press con-ference Nov. 14.

Last year, WPD was one of the first police departments in the country to begin evaluations on the cameras. Currently, more than 400 agencies are in the process of testing, implementing and deploying the technology.
Designed for law enforcement, the Fast Access Camera Technology (FACT) have Instant-on activation, which automatically captures HD video and audio the instant a weapon is drawn from its holster.
"This product is issued as a clear need in the world today. From concept to deployment we felt this is a product that we had to get to market and Williams Police have been with us all the way," said Brian Hedeen, president and CEO of Viridian Weapon Technologies.
Lieutenant Daryl Hixon with the Williams Police Department was one of the first law enforcement officers to test FACT Duty™ cameras.
He said the weapon mounted camera was designed specifically to capture officer involved shootings and show exactly what an officer sees.
"If the public wants to know this is your answer," Hixson said. "If you really want to know … the camera doesn't lie."
"We feel this is an essential point of view that is missing from most officer involved shootings today, notably from the high profile cases we have seen," Hedeen added. "We hope that Viridian weapon mounted cameras can play a significant step toward providing better information in officer involved shootings."
Hixson said the camera could portray a better visual than body cameras or at the very least show a more complete picture of an incident.
Additionally, an added advantage is having additional light, which is cast when the pistol is deployed.

"With the camera system, the source of light is on the gun," Hixson said. "That frees up your hand, so that's an advantage itself … coupled with the camera and the technology of the camera itself you can see it's a clear, concise picture for you (and) a clear, concise picture for the officer. With that light there is no guessing."
Hixson added that the muzzle and the delivery system are combined to produce both a light, a deadly weapon and a camera.
"For the officer, for the citizen, there is no guessing. Justice is justice whether an officer makes a mistake or he doesn't. If he's justified, he's justified," he said.
Additionally, the camera's weight or attachment to the pistol will not affect officer's marksmanship, according to Hixson.
"The weight is minimal and the advantages outweigh any weight you would have," he said.
The camera weighs approximately 3 ounces.
"We tried to make it fool proof," Hedeen added. "There is no removable memory card, there is no power button… we just tried to keep it easy and simple."
There are currently 12 patrol officers on the Williams Police force who will use the weapon mounted camera. The camera can store up to 32 gigabytes of footage (approximately six hours of onboard storage with a battery life of up to three hours). For now, Hixson said camera footage will be downloaded once a month at the Williams Police Department.
About Viridian Weapon Technologies
Headquartered in Minneapolis, Minnesota, Viridian Weapon Technologies applies cutting-edge technology to design compact, powerful self-defense products for the civilian, military and law enforcement markets. Viridian is the leader in weapon-mounted technology and responsible for a number of firearm innovations including green and red laser sights, LED weapon-mounted illuminators and several shooting accessories including the TacLoc® Holsters. Viridian products are designed and built in the USA. More information is available at ViridianWeaponTech.com.
SUBMIT FEEDBACK
Click Below to:
More like this story