Seligman residents arrested in marijuana growing bust
Originally Published: November 20, 2018 10:26 a.m.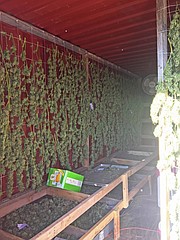 SELIGMAN, Ariz. – Following a four-week long investigation, Arizona Department of Public Safety detectives have arrested seven people, including two from Seligman, in the connection with two illegal marijuana cultivation operations.
The Mohave County Criminal Targeting Unit coordinated residential search warrants on two properties in Yavapai County and seized a large amount of marijuana and other evidence.
Evidence seized included, 791 pounds of cultivated raw marijuana, 67 marijuana plants, 180 grams of THC wax, 107 grams of LSD, a hallucinogenic drug, 1 gram of hallucinogenic mushrooms, 16 pills, unknown type, four firearms, and over $4,300 in U.S. currency.
Seven people were arrested in the course of the investigation and face numerous charges. Those charges include, possession of marijuana for
sale, production of marijuana for sale, possession of narcotics, production of narcotic drugs, possession of dangerous drugs and fraudulent schemes.
"Making communities in northern and western Arizona safer starts with dismantling drug operations like this one," Colonel Frank Milstead, director of the Arizona Department of Public Safety said. "Taking these suspects off the streets and depriving them of their illegal livelihood will hopefully send a strong message to others."
The suspects have been identified as Keith Arnold Hogave 39, Fort Mohave, Wiley David King 71, Quartzsite, Tessa Rose Stover Blovin 26, Quartzsite, David John Venus 58, Fort Mohave, Vanessa Rose Bennett 39, Seligman, Mitchell Ray Kirkley 48, Seligman.
This investigation was conducted with the help of the Department's Mohave County Gang and Immigration Intelligence Team Enforcement Mission, Coconino County GIITEM, Hazardous Materials Unit, Intelligence Bureau and the Aviation Unit's Western Air Rescue.
Information provided by The Arizona Department of Public Safety
SUBMIT FEEDBACK
Click Below to:
More like this story