You're in Viking country: Students and city collaborate on new welcome signs
Originally Published: November 13, 2018 11:37 a.m.
WILLIAMS, Ariz. — Visitors to Williams will have no doubt they are entering Viking country when they turn off the interstate.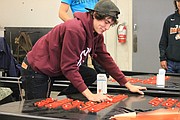 Williams High School welders recently collaborated with the city of Williams to create three welcome signs that were placed at the entrances to Williams.
The signs say "Welcome to Williams, AZ, Home of the Vikings," and have every state championship listed. The sign, cut to resemble the state of Arizona, also has a large Viking logo and a star to represent the location of Williams on the state.
According to Steve Schober, the welding instructor at Williams High School, council member Lee Payne brought the idea to him after the Williams High School football team brought home the 1A State Championship win in 2017.
"He said he would really like to see something like this in town," Schober said. "So he gave me an idea of what he wanted."
Schober said the city donated the materials for the project, and the welding shop used the project as a way to utilize their new plasma cutter machine.
"Its an automated plasma cutter, so essentially you build a program into the computer and then put a piece of plate on here and the computer cuts it out," Schober said.
Each component of the sign was designed individually and the programmers built bridges and programs to link them together.
"Each one of those takes about an hour to design," Schober said.
Schober said he and his students are learning as they go.
"The students are practicing and getting better," Schober said.
The machine cut out all the pieces, and the students laid out and assembled the signs.
Each sign weighs about 800 pounds.
Although several students participated in the project, Level 2 welders Frankie Kramer and Carsten Brinkworth basically facilitated the whole thing, Schober said.
"The students cut all the components out with the plasma cutter, and the machine cut the back plate, which is in the shape of the state of Arizona," Schober said. "The star is our location on the map."
Schober said Athletic Director Phillip Echeverria researched all of the past state championships Williams High School has won and gave the list to Schober.
"We then built all the plaques and assembled them," he said. "Then we cut the outside posts and welded them."
The students welded all the corners and then welded the plates together. They drilled the holes and laid out all the parts. The finished product was then sent for a powder coat.
"We started building one at the end of last year as a model, and then we finished the rest this school year," Schober said. "We probably have 80 hours of work into these signs.
The sign has several vacant spots for future state championships.
SUBMIT FEEDBACK
Click Below to:
More like this story