Robert Anderson named Officer of the Year for actions during 2017 shooting
Originally Published: November 13, 2018 11:19 a.m.
WILLIAMS, Ariz. — Robert Anderson, an 11-year veteran of Williams Police Department, has been named Officer of the Year by the Fraternal Order of Police in Flagstaff for his courage, professionalism and actions during the 2017 shooting in Williams.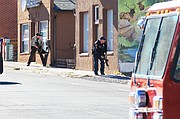 On Nov. 28, 2017, Anderson was one of four officers who responded to calls of a man, later identified as Jowell Gutierrez, who was driving in the forest near Williams threatening suicide.
After a brief search, the vehicle was located parked outside a residence near First Street in Williams. According to Williams Police Chief Herman Nixon, officers were unsure whether Gutierrez was inside the residence. Officers began evacuating the nearby residences and businesses and set up a perimeter. After attempting to reach Gutierrez via phone, the suspect began shooting at officers from the upstairs room in the residence. Gutierrez surrendered without incident.
During the shooting, Anderson's vehicle was hit 17 times by Gutierrez.

Gutierrez was taken into custody and transported to Coconino County Jail where he was charged with two counts of attempted homicide on law enforcement, two counts of aggravated assault and two counts of criminal damage. His trial date is set for Dec. 11.
Finding his calling
A northern Arizona resident since he was 17 years old, Anderson was raised in Harlem and Long Island in New York City. Anderson said his parents decided to move him and his sister from the Big Apple to a small town and chose Williams.
"I left there my senior year of high school and moved here to Arizona," Anderson said.
Anderson said going from NYC to Williams was a big adjustment.
"It was like, what is this?" he laughed. "It kind of got me a little twisted but not too bad."
Anderson went on to graduate from Williams High School that year,before moving to Flagstaff, where he played college football and received an interior design degree from Northern Arizona University.
Upon graduation, Anderson was approached by his pastor who asked him to help minister to youth in the Sunnyside neighborhood in Flagstaff.
"A lot of the kids were probated so that was kind of like the last resort for them, to show the judge that they had been rehabilitated by the word of God," Anderson said. "It was very difficult. I'm not going to lie. (It) was difficult because not only did I work there, but I lived there too."
From there, Anderson went on to work at the Guidance Center, a behavioral health facility in Flagstaff which, at that time, offered a behavioral health unit, 28-day unit and an adolescent unit to patients.
Anderson said that while his time in Sunnyside helped him understand cultural differences, it was at the Guidance Center that he began seeing the various psyches of people and fully understanding the role of mental health.
"Now you're dealing with different mind frames (and) now I was learning how to talk to people who believe there's a leprechaun sitting there talking to them," he said.
Part of Anderson's job was to monitor clients, teach them coping mechanisms as well as conducting some counseling. Anderson said each job prior to becoming a police officer has taught him a little more about the human disposition and helped propel him toward becoming an officer.

One of the main differences in what he does now is the environment in which he interacts with the public; where before it was a controlled environment, now it is a public space.
"Now (I'm) working in an environment that is not controlled. You have this world and you have to de-escalate issues, you have to control the situation to stop that person from harming themselves and others," he said.
As a police officer Anderson said he deals with society when they are at their lowest and said he sees his job as an aide to those in need.
"We basically are coming to them as an aide to help in any way we can," he said. "A lot of times we have to feel out the situations first before we can even make a decision of what to do."
In the last 11 years that Anderson has been on the police force, he said he has realized that his job is more than just catching the bad guys. He wants to do more and be a part of the community. When he patrols, he said it is important to him to drop in on businesses just to say hi or visit with seniors at the senior center or walk the halls with kids at the schools and to attend church on Sundays.
"That's what I love about a small community — I'm able to do that. (I like) when they're able to say, 'I know that officer, I know him,'" he said.
He also sees himself as a representative of Williams and said it's important to him to say hi to tourists and visitors and to welcome them to Williams.
"We're not always here to arrest people," he said.
But when it's time to put action behind the badge, like the shooting on First Street, Anderson said he is prepared to serve and protect. To him the badge he wears comes with great responsibility and he believes law enforcement officers should be held to a high standard.
"Those are the things that you think about as an officer. If I have to do that I will — to protect those who are in danger as well as myself," he said.

SUBMIT FEEDBACK
Click Below to:
More like this story