Bellemont crew among firefighters, engines responding to California wildfires
Originally Published: November 13, 2018 12:07 p.m.
Updated as of Tuesday, November 13, 2018 12:03 PM
PHOENIX (AP) — Arizona is sending nearly 150 firefighters and over 40 fire engines from communities all over the state to help California battle major wildfires, including some local firefighters.

On Nov. 9, Ponderosa Fire District in Bellemont sent Engine 813 (E813) with three personnel to California to assist with the devastating and deadly wildland fires.
"Our engine arrived this morning and has been assigned to the Woosley Fire near Thousand Oaks and Malibu. We will try to do daily updates on the crew and the conditions. We are proud of our personnel that are assisting the California residents that are need," said Ponderosa Fire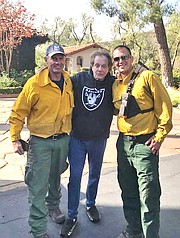 Chief Lee Antonides in a Facebook post.

Engine 813 is a Type 3 Wildland Urban Interface engine and is staffed with one full time captain/EMT, one reserve firefighter/paramedic and one reserve firefighter/EMT.
As of Nov. 12, the crew was still assigned to the Woolsey Fire and were continuing their work in the devastated community of Thousand Oaks where they were assigned to help with mop up operations within the community.
"They are going to homes within their assigned division checking for hot spots, extinguishing any active fire and ensuring those homes that haven't burned, don't," Antonides said. "One home they were working at was for famed rock star Eddie Money. Mr. Money posed for pictures with the E813 crew to show his appreciation for the hard work and sacrifice by all public safety workers involved with these catastrophic fires."
On Nov. 10, the Arizona Department of Forestry and Fire Management said other Arizona fire personnel and equipment will handle assignments that include fire suppression and backfilling for local fire departments with crews in California.
Many crews are from rural fire agencies but some Arizona cities sent crews including Glendale, Nogales, Peoria and Sedona.
At least 42 people were confirmed dead in the wildfire that turned the Northern California town of Paradise and outlying areas into hell on earth, making it the deadliest blaze in state history. The search for bodies continued Monday. Authorities said they were bringing in cadaver dogs, two portable morgue units from the military and an additional 160 search and rescue personnel to help find human remains.
Heavy losses
Officials said they did not know how many people were missing four days after the fire swept over the town of 27,000 and practically wiped it off the map with flames so fierce that authorities brought in a mobile DNA lab and forensic anthropologists to help identify the dead.
As the search for victims dragged on, friends and relatives of the missing called hospitals, police, shelters and the coroner's office in hopes of learning what became of their loved ones. Paradise was a popular retirement community, and about a quarter of the population was over 65.
The blaze was part of an outbreak of wildfires on both ends of the state. Together, they were blamed for 44 deaths, including two in celebrity-studded Malibu in Southern California , where firefighters appeared to be gaining ground against a roughly 143-square-mile (370-square-kilometer) blaze that destroyed at least 370 structures, with hundreds more feared lost.
Some of the thousands of people forced from their homes by the blaze were allowed to return, and authorities reopened U.S. 101, a major freeway through the fire zone in Los Angeles and Ventura counties.
Malibu celebrities and mobile-home dwellers in nearby mountains were slowly learning whether their homes had been spared or reduced to ash.
All told, more than 8,000 firefighters statewide were battling wildfires that destroyed more than 7,000 structures and scorched more than 325 square miles (840 square kilometers), the flames feeding on dry brush and driven by blowtorch winds.
In Northern California, fire crews still fighting the blaze that obliterated Paradise contended with wind gusts up to 40 mph (64 kph) overnight, the flames jumping 300 feet across Lake Oroville. The fire had grown to 177 square miles (303 square kilometers) and was 25 percent contained, authorities said. Winds were expected to weaken on Monday night.
The 42 dead in Northern California made this blaze the deadliest single fire on record, surpassing the toll from a 1933 blaze in Griffith Park in Los Angeles that killed 29. A series of wildfires in Northern California's wine country last fall killed 44 people and destroyed more than 5,000 homes.
Williams news staff contributed to this story.
SUBMIT FEEDBACK
Click Below to: