Jonathan Nez elected president of Navajo Nation
First Native American women elected to U.S. House of Representatives
Originally Published: November 7, 2018 11:40 a.m.
Updated as of Tuesday, November 13, 2018 10:26 AM
Navajo Nation President-elect Jonathan Nez spoke about the values the Nez-Lizer team will have when they take office.
"From the very start of this campaign, three words have defined everything that we've done along the way, every step we've taken and every word we have spoken. Those words are unity, hope and resilience," Nez said on Facebook Nov 8. "Unity, hope and resilience for all of our Diné people form the foundation of the Nez-Lizer campaign and will continue to serve as our foundation for the next four years."
Nez-Lizer transition team established
Two days after the election, President-elect Nez announced the establishment of a transition team for the coming weeks and thanking supporters and announcing six appreciation luncheons in different regions of the Navajo Nation in honor and appreciation of its supporters.
"Our people have entrusted us to be their leaders for the next four years and we are not wasting any time moving forward with a transition plan that is responsible, efficient and transparent," a press release said.
Because of overwhelming interest and inquiries during the campaign and following the general election, Nez said the transition team will begin accepting letters of interest and resumes immediately.
"We encourage anyone who is interested to submit their information, and that includes young Navajo professionals who want to come home and help our people," Nez said. "We are off to an exciting new start and invite you to be part of our team — Unity, Hope and Resilience."
Letter of interest and resumes may be submitted to Christopher Bahe by email at resume@teamnezlizer.com.
The Western Agency had 17,070 registered voters and 10,678 votes were cast, representing 62.55 percent voter participation.
WINDOW ROCK, Ariz. — It was an exciting night for Native Americans and for the Navajo Nation as two Native women were elected to U.S. Congress for the first time ever and as Jonathan Nez was elected to be the next president of the Navajo Nation.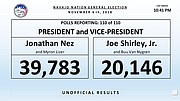 In a historic win, New Mexico elected Deb Haaland, an enrolled Laguna Pueblo member. Haaland was born and grew up in Winslow, Arizona. She is one of the first Native American women elected to Congress.
The first race called for a Native American woman to be elected to Congress this year came from Kansas. Sharice Davids, is a member of the Ho-Chunk Nation and the first openly LGBT person to represent Kansas.
Navajo Nation president
Navajo Nation President-elect Jonathan Nez and his running mate Myron Lizer won election last night more than 19,000 votes against former president Joe Shirley Jr. and his running mate Buu Van Nygren.
The unofficial vote count, with all 110 chapters reporting, was 39,783 votes for Nez/Lizer and 20,146 votes for Shirley/Van Nygren.
Nez will become the 9th president of the Navajo Nation, but with no salary increase.
The salary increase for the Navajo Nation president and vice president lost with 37,207 votes against and 18,585 votes for.
In all, 61,114 ballots were cast. There were 94,916 registered voters, which represented 64.39 percent voter participation in this race.
The Western Agency had 17,070 registered voters and 10,678 votes were cast, representing 62.55 percent voter participation.
Council delegate races
Seven sitting council delegates were ousted from their seats including Council Delegate Walter Phelps, (Cameron, Coalmine Canyon, Tsidii To'ii, Leupp and Tolani Lake chapters) by Thomas Walker, Jr.
Walker received 1,093 votes to 927 for Phelps.
Council Delegate Tuchoney Slim Jr. (Coppermine, Kaiibiito/Lechee/Tonalea/Bodaway Gap) lost his seat to Paul Begay.
Begay received 1,491 votes to 1,092 for Slim.
In addition the following sitting delegates lost their seats:
Delegate Leonard Tsosie (Pueblo Pintado/Casamero Lake/White Horse Lake/Counselor/Ojo Encino/Littlewater/Torreon/BacaPrewitt);
Delegate Tuchoney Slim Jr. (Coppermine/Kaiibiito/Lechee/Tonalea/Bodaway Gap);
Delegate Norman Begay (Tohajilee/Ramah/Alamo);
Delegate Benjamin L. Bennett (Crystal/Fort Defiance/RedLake/Sawmill);
Delegate Lee Jack Sr. (Dilkon/Indian Wells/Teesto/Whitecone);
Delegate David Filfred (Mexican Water/Tolikan/Teecnospos/Aneth/Red Mesa).
SUBMIT FEEDBACK
Click Below to: