Tracking pronghorn: AZGFD capture and collar for migration project
Originally Published: November 6, 2018 12:14 p.m.
WILLIAMS, Ariz. — Forget about the cheetah, the pronghorn is one of the fastest land animals in the world and lives right next door. The sprinting pronghorn is a marvel to see with its sleek and slender build and tiny deer-like body that is perfectly adapted to reach speeds of 60 mph while blending in with the sage colored grasslands of northern Arizona.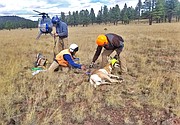 Pronghorns are capable long distance runners that can travel for miles at high speeds, but the zigzag of roads and fences that cross the paths of these animals is keeping them from completing their migratory routes, according to the Arizona Game and Fish Department.
"We've seen historically they move quite a bit through this area," said Scott Sprague, a wildlife biologist with the AZGFD. "It's a pretty robust population."
Capture and collar
Sprague and other wildlife biologists from AZGFD and Kaibab and Coconino National Forests joined with volunteers from the Arizona Antelope Foundation for a recent project to capture and collar pronghorn in Garland Prairie near Williams Oct. 23-24.
The project is designed to allow biologists to monitor the movements of pronghorn and study the impacts of roads and fences on the migration of the species.
"The collars record locations every few hours, and we can see as they approach a fence or a road," Sprague said. "Then we can see where they failed to get across that fence or road."
Sprague said the data gathered from the collared pronghorn is used to determine which areas AZGFD and the US Forest Service can alter to improve access for the animals.
"We can look at that information and focus fence treatments there or use it to direct habitat treatments," he said.
Besides the impediment of roads and fences, biologists can also determine how juniper and pinyon tree encroachment in grasslands is affecting pronghorn migration.
"Pronghorn are grassland species," Sprague said. "They are found primarily in open areas. What used to be grasslands is being converted into junipers because of different ways people are utilizing the land."
With pronghorn's keen eyesight, which some people say is the equivalent to an 8-power binocular, they rely on open grasslands to keep predatory coyotes, bobcats and mountain lions at bay.
Sprague said the encroaching junipers limit pronghorn mobility and make them more susceptible to predation. The data collected from the collars will help land managers determine target areas to remove junipers that are encroaching and open it back up for better grassland habitat.
Mending fences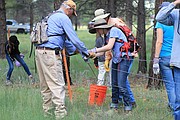 For the past few years, AZGFD, with the help of the Arizona Antelope Foundation and the US Forest Service, has conducted fence altering projects in select areas in Kaibab National Forest and private ranches near Williams. The most recent project was in September, when more than 60 volunteers joined with Kaibab National Forest and AZGFD specialists to modify fences to allow pronghorn to pass through them.
Research has shown that pronghorn rarely jump fences and prefer to go underneath them, so workers on these projects remove the bottom barbed wire on the fences and replace them with smooth wire at a height of 18 inches from the ground.
Animal safety
Careful planning and coordination is taken by Sprague and his colleagues for safely trapping and collaring the pronghorn. This year, the AZGFD contracted with Quicksilver Air for the collaring project.
"The helicopter pilots we use are extremely experienced," Sprague said. "The biggest thing is not putting too much stress on the animal during processing."
Quicksilver Air is a certified Part 135/133 helicopter company that specializes in wildlife capture for research, disease testing and translocation. They have bases in Alaska and Colorado with personnel trained and experienced in aging and weighing animals, monitoring temperature and condition, obtaining required biological samples and measurements as well as phlebotomy, fitting of collars and transmitters.
Sprague said the procedure for safely netting and collaring is different for pronghorn than other animals.
"One of the biggest things is limiting chase time," Sprague said. "The animals are extremely good at running, but they expend so much energy that they get heated pretty quickly."
Sprague said the technique involves allowing the animals a chance to stop or slow down before netting the animals.
"When you put a net on animals running pretty fast, there is certainly a danger when they fall," Sprague said. "They're built for speed, not for roughness. They can be injured easily if they fall wrong."
Once the netting is completed, the helicopter crew and biologists quickly blindfold and hobble the pronghorn to minimize their movement. The pronghorn's temperature is then taken and monitored as biologists fit the animals with a collar. Some of the animals have blood drawn to check for specific ungulate diseases, and then the animal is released.
"They take the blindfold and hobbles off and send them on their way, it probably takes 5-10 minutes," Sprague said.
The group collared 40 animals, 23 does and 17 bucks, in the late October effort. Biologists estimate 250 pronghorn roam the Garland Prairie area.
Using the data
Biologists will track the GPS locations from the collared pronghorn from their office desktop computers.
"The data itself are generated by the collars," Sprague said. "They each have a GPS unit in it and a simple satellite phone. Once a day it will send its data and that will update a web page we can check."
As the GPS collar data is collected, biologists will use the data to identify and correct barriers to pronghorn movement. This data will affect the planning and implementation of forest and grassland restoration work.
The pronghorn project is a collaborative effort between state and federal agencies along with funding from sources such as the Arizona Antelope Foundation and the U.S. Fish and Wildlife Service's Wildlife and Sport Fish Restoration program.
See related story on our sister site in Prescott, dCourier.com:
No place to go: 100 Glassford Hill pronghorn facing death in 5-10 years
SUBMIT FEEDBACK
Click Below to:
More like this story