"Öngtupqa:" Hopi connections to Grand Canyon
"Öngtupqa" takes inside look at Hopi musical and cultural connection to Desert View Watchtower with new CD and documentary
Originally Published: November 6, 2018 11:29 a.m.
GRAND CANYON, Ariz. — A trio of musicians with strong connections to the Grand Canyon, have made an acoustic soundscape intended to honor the surrounding landscape through music created on-site at the Desert View Watchtower.
Öngtupqa concerts and film screenings
Camp Verde - Nov. 10
Museum of Northern Arizona in Flagstaff - Nov. 11
IMAX Theater in Tusayan - Nov. 12
Pueblo Grande Museum in Phoenix - Nov. 16
The Loft Cinema in Tucson - Nov. 12
San Pedro Chapel in Tucson - Nov. 18.
More information about a complete list of performances is available by visiting www.ongtupqa.com/events.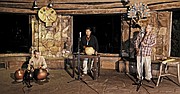 The project is called Öngtupqa, which is the Hopi name for Grand Canyon that translates to Salt Canyon. This recording features the oldest instruments from this corner of the world.
Clark Tenakhongva, Gary Stroutsos and Matthew Nelson use their mastery of voice, flute and ceramic percussion to bring the acoustics within the Watchtower to life.
The musicians know music has the power to connect people to place in a profound way. With the Desert View Watchtower perched on the edge of one of the world's most important cultural and geographic landscapes, the recording could never be replicated in a studio far from the views and spirit of Grand Canyon. Öngtupqa is the first audio recording within this location, whose architecture is inspired by Ancestral Puebloan ruins.
It's now available as an audio CD, digital downloadand documentary film.
"My only hope is the music we offer will resonate with the world," said Tenakhongva, who is a renowned Hopi singer, kachina carver, and works as the vice chairman of the Hopi Tribe. "As Hopi, we were born within Grand Canyon and when we are done we return back to this place to rejuvenate life of a new beginning. This is the cycle. This is the Hopi way. And these are songs about that special place — Öngtupqa."
Öngtupqa is a historically significant recording as it features the Hopi long flute — a relatively unknown instrument that has been missing from the Hopi Mesas for over 500 years.
Samples of the music can be heard here.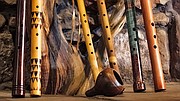 Archaeological excavations in northeastern Arizona from the 1930s unearthed four flutes that have been dated to 650 A.D., making them among the oldest known wooden flutes in North America and predating cedar Plains flutes (commonly referred to as "Native American flutes") by over 1,000 years.
Stroutsos plays a replica of this ancient end- blown instrument, which was traditionally used to bring rain. The original flutes are curated by the Arizona State Museum in Tucson. This recording is the first of its kind to reunite the flute with traditional vocals.
Stroutsos said the importance of the project is that Tenakhongva took the time to share Hopi perspectives and knowledge from one man's personal beliefs beliefs about respecting the Grand Canyon beyond people just taking pretty pictures.
"He'd like people to have, from all over the world, a better perspective of the meaning of the Grand Canyon to Hopi and how to respect the Grand Canyon and some of the wishes that Hopi has in being the stewards of the Earth and the place," Stroutsos said. "It's a unique perspective on the Grand Canyon through the eyes of a traditional Hopi person."
The 53-minute audio recording is complemented by a 48-minute film, featuring stunning images of Grand Canyon, an explanation of Hopi cultural connections to the canyon, live music footage, time lapse imagery, and much more.
It helps explain Grand Canyon as a living landscape, something Hopi people equate to a house of worship. Also included within the CD and DVD package is a digital download card so listeners can enjoy the music on their computer or mobile device. A full-color 16-page booklet tells the story of the flute's return to Hopi, stunning images of Grand Canyon, Hopi artwork and artist biographies.
"You're not going to get an opportunity to see something like this — it's a once in a lifetime opportunity, not only for Clark to sing songs he composed while he was on the river in the Watchtower, but him letting me play a replicated Hopi flute and Matt playing some African clay pots," Stroutsos said.
In addition, Stroutsos said there has been a lot of misinformation about music and culture about Native people because of the new age movement and taking advantage of situations that portray Native people in a romanticized way.
"We're trying to re-inform people and change the landscape. This is not a tribal sovereignty, political, social justice project," Stroutsos said. "This is a little different than that, but don't think Clark is not entwined in that…now that he is speaking for his people. That's why it's unique, that's why it is special."
Stroutsos does imagine it may be hard for people who are misinformed about Native people and sacred things.
"You have to listen and watch this and take a hard look," he said. "This is some serious content. It's quite an honor that Clark did it."
More information about select songs, portions of the film and information about Öngtupqa, is available by visiting www.ongtupqa.com. The physical product is available for sale online and within retail outlets in the Four Corners region. Songs can be downloaded through Amazon and CD Baby, and the film can be rented or purchased through Amazon. Subscribers to Passport through Arizona Public Media in Tucson can watch a special 20-minute version of the film throughout the month of November.
Ten percent of proceeds benefit restoration efforts of the Desert View Watchtower, and the continuation of traditional music and culture for youth on the Hopi Mesas..
SUBMIT FEEDBACK
Click Below to:
More like this story