Chance encounter brings Vietnam veterans back together
Originally Published: November 6, 2018 3:15 p.m.
WILLIAMS, Ariz. — Tents set up on a beach, sand infiltrating every bit of equipment and months of wearing the same fatigues. Although it's been 54 years since Williams residents Jack Douglas and Walt Jones were on the beach of Chu Lai in Vietnam, the memories are still poignant.
Douglas and Jones were two of 1,500 Marines on the U.S.S. General W.A. Mann that sailed from San Diego, California and they were deployed for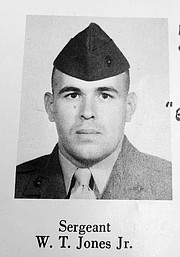 13-months as part of a battalion landing team at Okinawa.
The two Marines never met on the ship, but 54 years later they surprisingly reunited in Williams.
"We both happened to be at the (Williams Range) at the same time," Douglas said.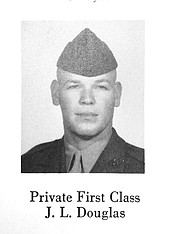 "I had my Marine Corps hat on and we started talking and found out we were in together," Jones said.
The two were First Battalion, First Marines at Camp Pendleton at that time. Camp Pendleton trained the country's military for the Korean and Vietnam wars with nearly 200,000 Marines passing through the base.
Douglas began his Marine Corps service in 1964 at Camp Pendleton.
Douglas was an MOS 0311, the United States Marine Corps (USMC) Military Occupational Specialty (MOS), code for a Basic Infantry Rifleman.
Jones began his Marine Corps career in 1953 at Camp Pendleton. He worked as a radio operator there for a year before being transferred to the Air Naval Gunfire Liaison Companies (ANGLICO) in Hawaii.
"That's when Hawaii was a territory not a state, so it was considered overseas duty post, I drew another $15 per month for overseas pay," he said.
Jones was in a headquarters company in communications and Douglas was in a letter company.
"Our paths never did cross," Jones said. "I had radio operators that I would farm out to the different companies during operations. But myself, I was always at Battalion."
At Okinawa, Douglas said he was in a line outfit training in tactics.
"For me it was going to the machine gunnery every day," he said.
After Okinawa, the men went to the Phillipines and Thailand before being sent to Vietnam on the U.S.S. Lenawee.
From December until April 1965, the U.S.S. Lenawee was laden with marines in the South China Sea. Third Division marines were landed at Da Nang and 4th Marines were brought to Hue. The ship brought additional troops to the assault landing at Chu Lai on May 7 of that year.
"We sat there a couple days because they were doing the firefight up towards Hue, up in the mountains," Jones said. "So when we finally landed, they took the battalion and split in in half. Some of us were sent up to the old capital at Phu Bai and the other around the perimeter fence at Da Nang Airstrip."
Jones said they were separated a couple weeks and then the battalion was brought back together just outside of Da Nang for a year.
"It was hot, sweaty and humid there," Douglas said. "I wore the same set of utilities three to four months at a time."
Jones continued as a communications chief in Vietnam. He said there were four companies with each company having three to four platoons.
"Every time they would go on an operation, I would send a radio operator or wireman to effect communications for them," he said.
Douglas said when he got to Vietnam, he flew up to Phu Bai to set up a communications center then came back to an old French fort.
"We conducted search and destroy, ambushes, stuff like that from that French fort," he said. "There were a couple hills around that we were sitting on."
In August, Douglas was transferred to Chu Lai as Operation Starlite wound down. Operation Starlite was the first major U.S. ground battle of the Vietnam War, with 5,500 Marines destroying a Viet Cong stronghold. During the six-day operation, ground troops, air support, and naval gunfire combined to kill nearly 700 Viet Cong soldiers. The U.S. lost 45 Marines, with more than 200 wounded.
"That was a bad deal, I didn't miss anything," Douglas said.
"I lost two friends on that one," Jones said.
Douglas spent his remaining time at Chu Lai and headed back to Camp Pendleton in December 1965. He continued as an MP until he left the service in 1967 and worked a variety of jobs before landing in Gilbert, Arizona in 2000. He moved to Williams in 2015.
Jones retired in 1975 after 23 years in the service. He began his own computer company that operated in California and Texas for 20 years. He once again retired in 1996 and moved to a small town in Mexico until 2017, when he moved to Williams.
SUBMIT FEEDBACK
Click Below to:
More like this story