Williams Elementary-Middle School May Students of the Month
Originally Published: May 29, 2018 10:07 a.m.
WILLIAMS, Ariz. —Williams Elementary-Middle School recently announced the Students of the Month for May.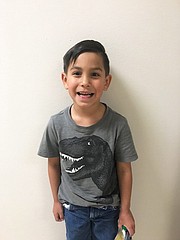 Mario Ceballos Camelat is the kindergarten Student of the Month (SOM). Mario is a very enthusiastic student who takes his education very seriously. He tries to never get his name on the board and is very kind to others. He is also a whiz at math and is always respectful to teachers and loves sharing his dinosaur knowledge.
Camryn Ford is the first grade SOM. He is a very caring student and is nice to everyone in the class. Camryn often offers to help others and always participates in class discussions. He is very respectful to his teachers, other staff and peers. His humor and smile are contagious.
Kailee Davis is the second grade SOM. She is an outstanding student. She tries her best, even when a task gets challenging. She is always respectful and polite to her peers and to adults. Whenever someone needs a helping hand she is always willing to help out. Her teacher rarely has to remind her of classroom expectations.
Alex Beltran is the third grade SOM. Alex has been able to work through a lot of struggles in the classroom. He has become a student who likes to come to school and work hard. He does his homework every night and is a great friend to his classmates and a wonderful helper in class.
The fourth grade SOM is Mario Pedraza. Mario is a very responsible, motivated and confident student. He comes to school every day with an excitement for learning. He is also a natural leader and model student who sets a positive example for his peers. He gives his very best at everything every day. He puts a lot of effort into his class work. His teachers have seen a lot of improvements in his writing skills.
Reina Rocha is the fifth grade SOM. Reina goes out of her way to be helpful in class. She is always the first to jump up and lend a hand where ever is needed. Whether helping another classmate to understand their homework or just pitching in to clean up, Reina is very helpful. She is a very respectful and responsible young lady.
Middle School Students of the Month
Jesus Salazar is the male SOM for eighth grade. Jesus is extremely diligent about completing classwork on time and correctly. He is not afraid to ask for help when he needs it and demonstrates leadership skills in school. He is respectful, patient and kind and can always be counted on by students and staff alike to lend a helping hand.
Isabella Hernandez is the female SOM for eighth grade. Isabella's grades have greatly improved since the beginning of the year. She is motivated to do well in school because she wants to be a successful adult. She is willing to do anything she can to help peers and adults and has a quiet leadership style that does not go unnoticed. She overcame a difficult situation this year — despite the hardship, she has not slowed down in school and shows true resilience. She is a delightful young lady and a wonderful role model to her peers.
Information provided by Williams Elementary-Middle School
SUBMIT FEEDBACK
Click Below to:
More like this story