Elephant Rocks Golf Course ushers in spring with opening day
Originally Published: March 27, 2018 9:37 a.m.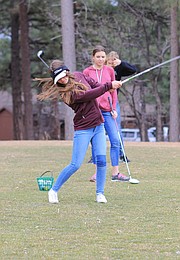 You know it's spring when Elephant Rocks Golf Course opens for the season. On March 21, 30 golfers enjoyed nine holes of golf on the 18-hole course; the second nine holes will open this weekend.
Scott Little, golf pro at Elephant Rocks, said opening day was exciting for both seasonal and new customers and said everyone is looking forward to the upcoming season.
"We are loving opening, it was great. We got a big turn out and a ton of season passes are expected this year," he said. "We love the season pass holders, they're what we consider our regulars — they're like a membership basically. We are expecting that number (of pass holders) to climb this year. We've already seen some new faces … we're very excited."
According to Little, purchasing a season pass for Elephant Rocks is one of the best deals in northern Arizona.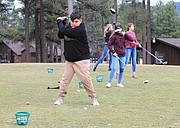 "Its $700 plus tax and that gives you your greens fees for the entire season. To put it in perspective the normal greens fee on the weekend is close to $60. So, for a commitment of a season pass you get tremendous value." he said. "For a course of this quality, with the conditions this course is always in — it's second to none .. (is the reason) why we see those numbers creep up every year."
On March 31, all 18 holes at the course will be open.
Little said opening just nine holes to start with actually helps get the course open faster.
"It allows the maintenance staff to focus on one nine, get it up and running, and they can do that faster than trying to focus on 18, so in reality it probably gets golfers on the course a little earlier than if we tried to get all 18 open," he said.
Marty Yerian, superintendent of Elephant Rocks, said preparing for opening day means a lot of preparation and hard work.
"When we close for the winter we sand all the greens, so we have to mow those off each spring. It kind of sets us ahead of a lot of the other courses because the greens are really green and lush – they come out (of winter) really good and even better than if we didn't do that. It gets us started earlier." he said.
This extra step is important for the health and overall appearance of the course.
"If we didn't do that we would be probably three weeks behind in color. That's where the money's at. You can have flaws in the rest of the course but your greens have to be as perfect as you can make them. The better they are, the more people want to come and play," Yerian said.
Little agreed.
"We put our greens to bed for the winter in a more careful way than, I think, our competitors so when we open up, for northern Arizona we have great greens for the spring," he said. "It's nice to have that as a welcome to those who want to come play. It makes my job a little easier to have such a great conditioned golf course."
The course is maintained by a nine man crew of full and part time employees.
Elephant Rocks is owned by the city of Williams and the maintenance crew are city employees. Yerian said he believes he will have close to a 100 percent return of employees for the season. He said it takes a full staff the keep the course up to par. He said he anticipates a good season for the course.
"The course doesn't look as good as we'd like it to, but it's only March," he said. "April brings the warmer night temperatures and warmer daytime temperatures so we can start to put fertilizer out and make things come alive."
Over the winter most of the maintenance crew is laid off. Full-time employees spend the winter making upgrades to the facility and equipment.
Williams High School Golf Team
With the opening of the course, the golf team at Williams High School now has a place to practice and will also host matches.
Little, who coaches the team, said there are 11 students signed up for the team. Around eight play regularly, since most students play multiple sports and have to juggle tight schedules. In 2017, six students signed up for the golf team, which made it difficult to have a full team.
"This year, for the first time since I've been coaching, we have enough to qualify for the events," he said. "Which is great, we're growing there."
Prior to the course opening, students practiced in the high school gym.
"I finally get to see what they look like on a golf course because we've been practicing in a gym for a month," he said.
Students are taught the basics including swinging, putting and scoring.
"From the most basic to the most obscure. It's a beautiful journey for the kiddos who haven't played before because it's a game of a lifetime," Little said.
The team played its first match against Bagdad March 27. Little said around 40 percent of their matches will be home games.
Depending on the weather, Elephant Rocks Golf Couse is open from late March through mid-November.
SUBMIT FEEDBACK
Click Below to:
More like this story